TBS Welcomes New Head of School Mr. David Faus
He loves the Yankees, and he's a former surfer. His name is Mr. David Faus, Benjamin's new head of school. After the untimely passing of former Head of School Mr. Robert Goldberg in March of 2019, TBS had been looking for a new leader. After a seven-month search, the School found its man in Faus, the former headmaster of St. Paul's School for Boys in Brooklandville, Maryland, a position he held for seven years. Before that headship, he also served eight years as head of school at Falmouth Academy in Falmouth, Massachusetts. Overall, Faus's independent school career spans nearly forty years and, ranging from teaching and coaching sports to senior administrative positions such as dean of students and division head.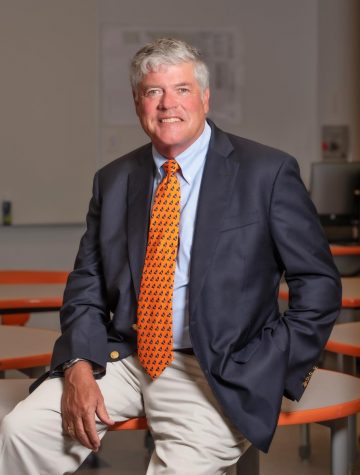 So what is it about Faus that makes him the perfect fit? 
With the global pandemic still being a worldwide threat, Faus has been doing his best to ensure that all students stay and feel safe at TBS. While public schools are just now opening, Faus decided that TBS should welcome middle and upper school students back to campus on August 31 after operating remotely during the first two weeks. 
"He is the right leader for this time," said Head of Middle School Mr. Charles Hagy. 
"During a pandemic, during the racial strife we're having in the country – with everything going on – leadership becomes more important than ever, and we should thank our lucky stars that we have such a nice, strong leader." 
COVID-19, the global pandemic, has altered how Benjamin operates for the time being, but Faus has been swift in working with the administration to keep the students and faculty safe while making sure the School's remote learners are staying connected to their teachers and classmates.  TBS has implemented several safety measures such as socially distancing from others, and wearing masks at all times. 
However, the new protocols have presented certain challenges.
"The hardest thing is not being able to meet people face to face," said Faus. "Being new, I am eager to meet with people, and Zoom is just not like a face-to-face conversation. There is also a challenge in holding confidentiality of those exposed to COVID versus the desire of the community to know if it is safe," he said.  
Apart from the pandemic, he has been very supportive of his team of teachers. 
"The first thing [Mr. Faus] mentioned to the faculty was to simply take time with our students and enjoy the moment," said Hagy.
So why did the School's fearless new leader choose TBS?
"I met parents, board of trustee members, and students; and I was struck by the sense of community and the friendliness that I saw," said Faus. "I was struck by the talents of the kids and how they could excel in a lot of places. You could excel in the classroom, athletically, artistically, creatively, just lots of different ways."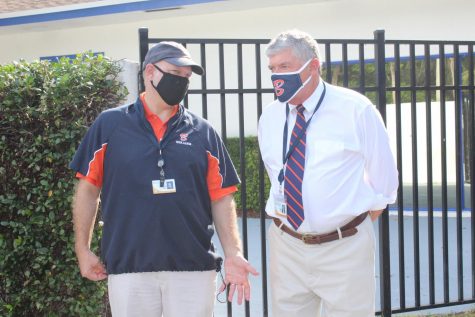 Faus also has goals for the school that he wants to achieve in the next year, and in the years to come. 
"The first year is all about keeping the TBS community safe and healthy – it is my number one priority, he said. "In the coming years, I am eager to find a way to tie the two campuses more closely together – creating even more Buccaneer spirit. I [also] want to make sure that we keep and retain the very best faculty possible." 
And when he's not busy leading TBS, he enjoys life on the water. 
"I like anything on the water – sailing, motor boating, fishing, paddle boarding, and a long time ago, surfing," said Faus. 
He is also a loving father and husband. He and his wife, Holly, have two children: Libby, their daughter who is a 2015 graduate of Boston College, and John, their son, who is a 2020 graduate of the University of Miami.
Faus will officially be welcomed as the new Head of School during Benjamin's 60th Anniversary Celebration, a virtual live event, on September 24 at 10:00 a.m.
Leave a Comment