New Library Renovations Nearly Complete
With students returning to campus on August 31, there were a lot of changes they had to get used to, most of which were not very convenient (e.g. constant mask wearing, one-way foot traffic, and six-foot social distancing). However, there was one major and exciting addition to the Middle School this year: the new library, which was renovated over summer break. 
Last year, it was mentioned that some of the possible new additions would include a research hub that allows students to communicate with other students in not just different schools, but different countries, and a new broadcasting studio that can be utilized by the video production students. After a spring of planning and a long summer of construction, the new changes and improvements are nearly completed.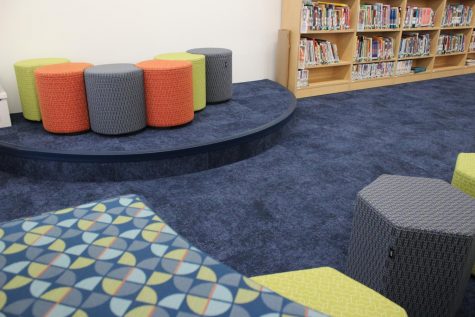 "Middle school students can use the library/media center in a variety of ways," said Academic Dean Mr. Charles Maddox. "There will be a TV broadcasting studio that will be accessible to students, as well as lots of flexible seating and small group conference rooms. I envision students using the library/media center for group projects when students need a dedicated workspace".
Maddox, along with many other members of the middle school faculty, are very excited about the update. "It is a beautifully renovated space," he said. "The new carpet, furniture, and fixtures really make a big difference. I was very impressed when I first walked into the new space. Every detail was carefully planned." 
Library Media Specialist Mrs. Danielle Griffis, who oversaw the new design, couldn't be happier as TBS students now have access to more than 15,000 eBook titles. "I am totally pumped about the gentrification of the library collection," she said. "I believe that all TBS students will be able to find books they want to read more easily. Our ultimate goal is to increase circulation and get books into everyone's hands," said Griffis, who has partnered with a company called SORA to allow students to access these online books.
She's also looking forward to the new technology. "My hope is that we can combine presentations and media in new ways," she said. "While still under construction, the video production room is going to be an incredible addition to [this new] space.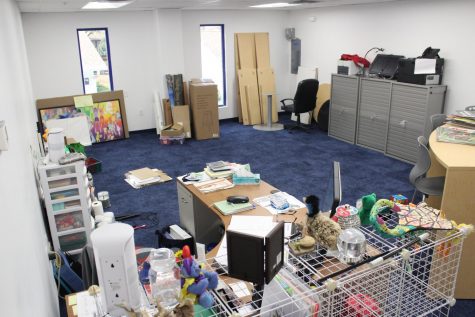 Mr. Crisafi and his students will be able to have dedicated equipment to support the journalism program."
For Crisafi, the video production room will make it easier for he and his students to broadcast TBS News. "The new production room will be a place where we can go and the equipment is already set up, so we won't have to worry about setting everything up in my current room, which takes a lot of time," said Crisafi. "Although it has not happened yet, I am looking forward to it happening at some point this year."
But how do the students feel?
"It is really cool," said sixth grader Bryce Krieger, who recently received a tour of the new space, "and the renovations make the library feel bigger than it did before. I also like how they added more chairs and desks, so that students have a place where they can talk with their friends."
Even some of Benjamin's remote students are looking forward to stepping inside the renovating library. "As I am taking virtual classes right now, I have not had the opportunity to physically be inside of the remodeled library, but I look forward to exploring the media center in the future," said eighth grader Eloise Solano. "After seeing the proposed 3D model, I think the library looks very nice, modern, and inviting."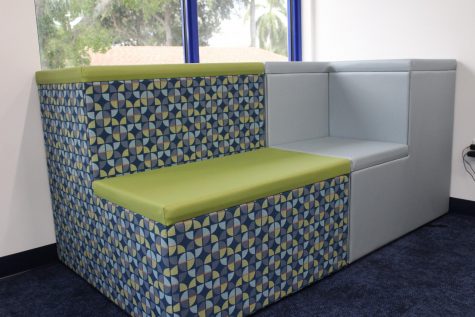 While many of the physical books are still being unboxed and arranged (books will now be grouped by genre instead of having to rely on the Dewey Decimal System), students will soon be filling the space. 
"I definitely think the library will be used more by middle school students since the space will better suit our needs," said Maddox. "It will be a state-of-the-art facility for both lower and middle school students."
Leave a Comment