YA Author Mitali Perkins Visits the Middle School
An alien emerging from outer space was what students saw when they laid eyes on Mitali Perkins when she was a schoolgirl. Ms. Perkins had recently moved from India to the United States. This tough change came at a cost as she had to adjust to an entirely new country, new language, and new culture.  However, those experiences helped shape Perkins into the writer she would become.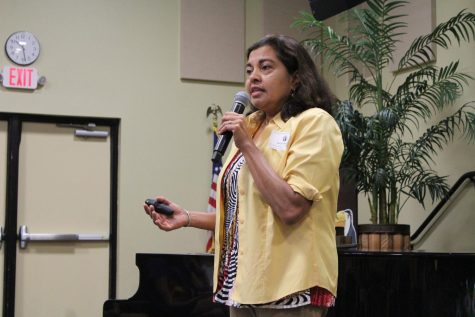 On Wednesday, March 11, the Middle School welcomed this award-winning young adult author to the Barker Performing Arts Center. Many of Perkins' books have to do with, as she calls it, "code-switching." This is when one has to change his or her customs, behavior, or language based on the culture in which they find themselves. Growing up in Brooklyn, New York and then suburban California, school and home were two completely different places for her. At home, she was still immersed in Indian culture with the same food, traditions, and manners of her home country. At school and with her friends, however, she was trying to fit in as a typical American teenager.  
For TBS students, this was a comforting and important message.
"I thought the author was very inspirational and showed that students shouldn't judge anyone," said eighth grader Tyler Kelly.  "She has taught me not to impose my manners on another friend's home as it could be disrespectful. People have to understand other people's mannerisms and customs."  
Her story also motivated students as Perkins' grew from her humble surroundings to become a successful author. 
"I enjoyed hearing about how her upbringing was," said eighth grader Jack Guagliano. "It changed my perspective on life. Now, I will aim to live life to the fullest and not take things for granted."
It was a refreshing assembly for the students who enjoyed hearing about the different aspects and cultural shifts pertaining to Perkins' life.  
"I believe visits such as these should be held a couple of times each year to remind others that there are many people out there that could inspire others and change people's outlook on life," said Gualiano.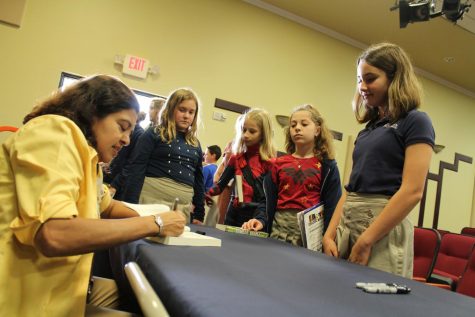 Visits such as these expose students to different cultures and different perspectives, a point Head Librarian and Media Specialist Mrs. Danielle Griffis wanted to emphasize in bringing Perkins to TBS. 
"I brought Ms. Perkins to TBS because I know and love her work, and wanted to share [her story] with the students and teachers," said Griffis. "Also, her work is very timely because she focuses on multicultural topics, and I think it is very important that we, as a community, learn more about people who are different from us."
Leave a Comment