Eighth Graders Serve Other Students Via Friendship Games
Eighth graders Host their Annual Friendship Games at The Benjamin Upper School.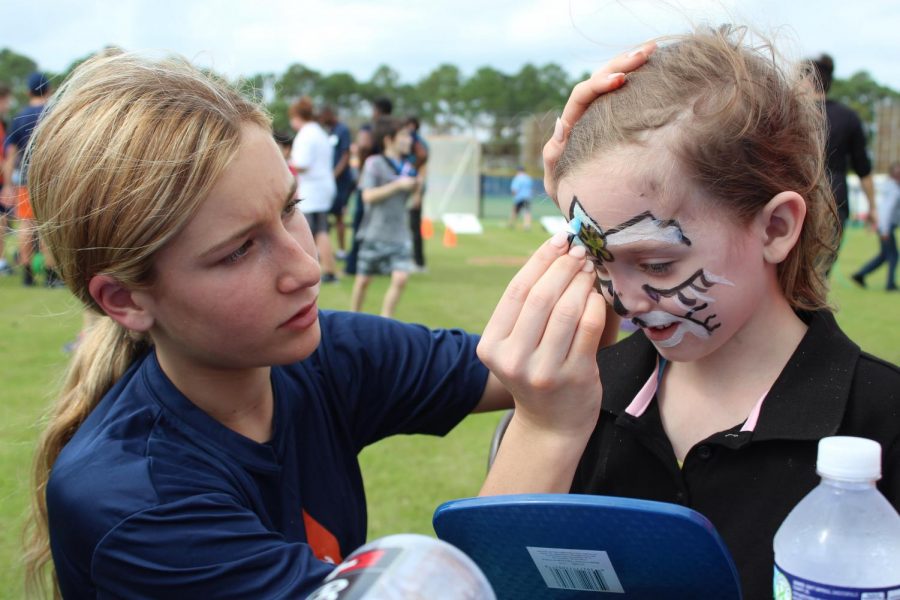 Late boxing legend Muhammad Ali once said, "Friendship is the hardest thing in the world to explain. It's not something you learn in school. But if you haven't learned the meaning of friendship, you really haven't learned anything."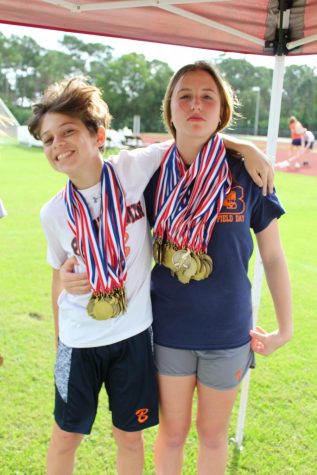 It's safe to say that Ali would label the eighth graders learned as they took part in the 16th annual Friendship Games on January 17. A half-day event where students who have special needs are able to participate in various outdoor activities at The Benjamin Upper School, the eighth grade welcomed 450 students and their caretakers to TBS this year. The activities, run by the eighth graders, included the 100-yard dash, broad jump, tennis ball throw, basketball, field hockey, a bean bag toss, bubbles, and face painting among others. 
For lunch, the students enjoyed pizza, bottled water, and Chips Ahoy cookies for dessert. 
Eighth grade English teacher Mrs. Kathleen Devine and former TBS parent Mrs. Pamela Malone started the Friendship Games 16 years ago. 
"My son was in eighth grade with Mrs. Devine at the Benjamin School," said Malone, "and I was running it by myself at Dwyer, and I never had enough help. I knew Mrs. Devine for years before Benjamin, and she said the eighth grade needed a project. So we started with 60 [students with special needs], and now we have 450 kids participating, and Benjamin has been tremendous in helping us out," she said. 
The schools represented included Allamanda Elementary, Limestone Creek Elementary, Duncan Middle School, and Dwyer High School, among others. The Friendship Games allow the eighth-grade students to step outside their comfort zone and serve others in the community while creating a special day for students who range in age from elementary school all the way through high school. 
"It is a wonderful community service project," said Devine. "It makes [our eighth graders]  aware of the fact that there are children and people in our community who really need our help,"  
"It always shows the eighth grade how different people's lives can be," added History Department Chair Mrs. Anne Franzen, who also attended the games and helped out. "It always brings out the best in them."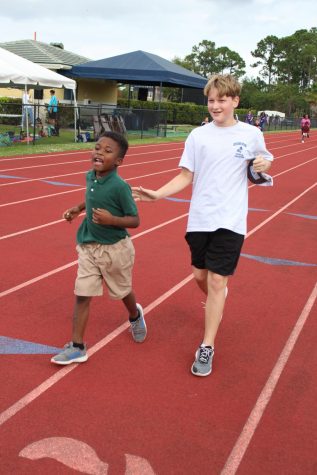 Benjamin's students enjoyed taking part in the event. 
"It is fun to meet a bunch of new kids and we can all have fun with each other," said fellow eighth-grader Christian Smith.
"This is one of the best days of their year, and we try to make that day as happy as we can for [the students]," added fellow eighth-grader Jack Guagliano.
The eighth grade's energy, warmth, and compassion were evident. 
"I always am so excited for the Friendship Games because our eighth-grade students truly show what great kids they are, and what really comes out about them is the wonderful virtues, their kindness, their sense of responsibility –  it's just wonderful to see it's the best day of the year," said Devine.
"The Benjamin kids are great with our students," said Malone. "They are just warm and friendly to them, and it makes them feel like superstars every day."