Students Engineer Mini Amusement Park Rides in Science
Roller coasters, Ferris wheels, and gravity-defying rides. No, we're not talking about the St. Clare Fair, we're talking about the projects being built in the eighth-grade Environmental Chemistry & Intro. to Physical Science classes. The eighth-graders are making miniature, working theme parks. Once completed, they will be put on display for both lower and middle school students to see.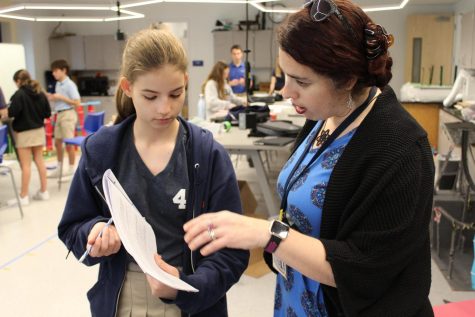 This year it is all focused around theme parks such as Disney. Throughout the whole process, the eighth-graders have been reviewing Khan Academy videos made by Disney Imagineers, the people who are in charge of designing these rides and attractions for all of Disney's parks. These videos are going to help the students with their layout, design, and even help them incorporate sound effects.
According to eighth-grade science teacher Mrs. Cheryl Bell, though, this is not just a science project, but one that incorporates other disciplines as well. For example, once the projects are completed, students will present their rides to other classes, incorporating English by writing up how their rides work, and how they relate to their class' theme. In addition, the students will use their math skills to solve different equations relating to kinetic and potential energy.
"The fact that you can take physics and combine it with creativity, and storytelling, and engineering, and art [is incredible]," said eighth-grade science teacher Mrs. Cheryl Bell. "The [subjects] all work together, and it's not just science in one classroom, math, art, and English in one classroom. They are not separate things."
The project has allowed students to put their engineering skills to the test while also cultivating their creativity.  
"We are making a [roller coaster] that explains the dangers of the elements [earth, wind, fire, and water,] and how to escape them," said eighth-grade science student Michael Louis. 
Every class has a different theme, so each group (or "home team" as eighth-grade science teacher Mrs. Cheryl Bell calls them) in its respective class builds a different ride for its class' theme park. These 'home teams' work together throughout this whole project – imagining, collecting materials, and creating. "Needs for Survival,"  "The Adventure," "Not the Destination," and "Discover the Undiscovered" are some examples of the class themes. Some of the rides that will be in these theme parks range from roller coasters to free-falls to dark rides.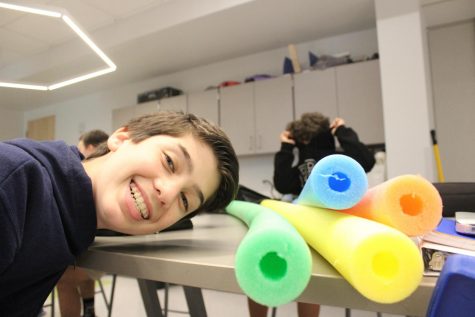 It's been a project the students have really enjoyed.
"This project is fun for me because I can make my dream ride become a reality," said eighth grader Hannah Beam.
"I think really being able to be in this [roller coaster] world that takes you out of reality and into this new world, this better world, [is a really cool thing]," said eighth-grader Arthur Wolff. 
Leave a Comment