Students Enjoy Second Annual Buc-O-Ween Celebration
One of the hallmarks of Halloween is dressing up. However, while costumes are not part of the middle school Halloween celebration, students are able to show school spirit by participating in Buc-O-Ween, a spirit day where they wear orange and blue and participate in fun games. 
Because of the no-costume mandate, some faculty were worried that not many students would be enthusiastic about the event. However, they were pleasantly surprised that most students wore spirit attire and some even dyed their hair. 
"I think there are a lot more students who dressed up than we initially thought," said math teacher Mrs. Lindsey Tanona. "We had heard that people weren't interested, but I was happy to see when I got to school today that there were many students participating," she said. 
Students were also happy with the activities.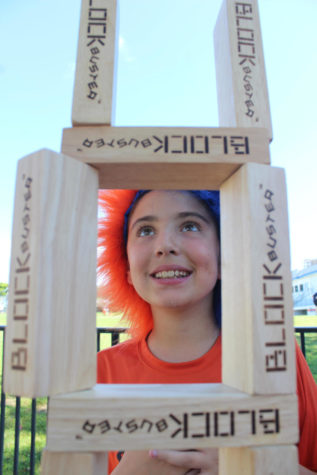 "There were many fun games in the quad," said eighth grader Logan Smith. "I especially liked that we could play on the field."
Many students enjoyed games such as cornhole, giant Jenga, and playing soccer on Kennerly Field. Mr. Maddox also had music playing in the quad via his portable Bluetooth speaker.
"I liked how it was very creative and spooky," said fellow eighth grader Charlie Noble. 
"I enjoyed that there were many different options of things to do," said eighth grader Joseph DePaulis.
In addition to the number of activities, the students were served free pizza from Big Apple and Costco sheet cakes for dessert.
There were some students, though, who thought Buc-O-Ween could have been better. 
"I think they could have better music and more activities," said seventh grader Emily Simon. "I also did not like the cake."
"There needed to be more activities and less sitting around," added eighth grader Michael Louis.
The morning kicked off with the middle school students watching the Lower School Halloween Parade. A storied TBS tradition, the parade allows students in grades kindergarten through five to dress up in their favorite costumes and walk around Kennerly Field. Accompanied by their teachers and seniors who are members of the 14-Year Club, the parade is one of the most anticipated events of the year.
"There was a huge variety of costumes which made it interesting and diverse," said DePaulis.  
"I enjoyed seeing all of the [lower school] kids happy," said eighth-grader JJ Kutner.
Another activity all middle school students participated in that week via their advisories was the annual Pumpkin-Decorating Contest. Held on Wednesday, October 30, the contest's theme this year was "candy," and there were pumpkins made up to look like a number of sugary sweets, from M&Ms to gumball machines to ice cream cones. In the sixth grade, Ms. Latimer's advisory took first place as her students decorated their pumpkin to make it look like a piece of gum. Mr. Harbeck's advisory won for the seventh grade with a pumpkin covered in candy, and the eighth-grade winner was Ms. McAllister's advisory as her students turned their pumpkin into a blue M&M.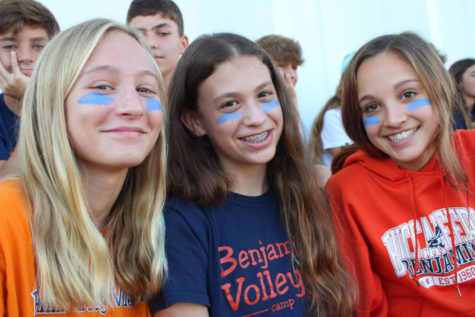 "I liked how we were able to work with our advisories as a group," said seventh grader Reagan Donahue. "It was also interesting how every advisory had a different idea." 
While middle school students may not get to attend school in their costumes on Halloween, they do get to celebrate via Buc-O-Ween and all that goes with it throughout the week.
"I think it is a great time for the students and teachers to get together for some fun during the school day," stated Maddox.
Leave a Comment