Green Baskets or Green Slips?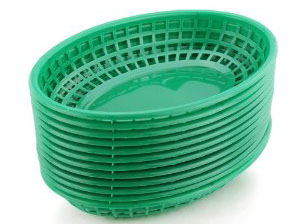 Return the green baskets or get a green slip. Many people, places, and restaurants are attempting to "go green." In fact, this year one of The Benjamin School's vendors, Chef Corp, is including reusable green baskets when serving lunch at our School. This is a great addition to the "green" initiative at TBS after it was named a Green School of Excellence for 2013-14. On Thursday, September 11, on the first day Chef Corp used the green baskets, more than half the Benjamin students inexplicably threw out their baskets after lunch, despite being told to hand them back into the Chef Corp employees. As a result, our own Student Council had to pay $225.00 to make up the cost. The pricing of these green baskets are, according to an email from Chef Corp, "$8.00 per dozen trays plus $22.00 shipping.
"I feel that using reusable baskets is a huge opportunity to further our green initiative at this School," said Middle School Student Council treasurer Maks Silagy. "I am disappointed that young men and women are not making the easy effort to give the basket to Chef Corp at the Buc Café. I think what we, as a community at the Benjamin Middle School, need to put more basket collectors around the middle school campus," he added.
Chef  Carlino of Chef Corp came up with the idea of using reusable baskets instead of the paper plates which were used last year. On Friday, September 19, Chef Corp will bring the green baskets back. At the end of lunch, students will be encouraged to turn in the green baskets via a large recycling bucket near the lunch areas. As was written in announcements following the incident involving the loss of the baskets last week, "We must show our respect and gratitude to both Chef Corp and our environment by returning these green baskets everyday."
On Friday, the buckets will be monitored by seventh graders Caroline Moody and Sarah Weiss, who have volunteered for this community service opportunity. Moody has also designed a poster which will be placed outside the concession stand reminding students to return their green baskets on a regular basis. Unfortunately, students who do not comply will receive a green slip. The Neersyde will be closely following this breaking story as it develops.  Let's hope students step up and hand in their green baskets as opposed to receiving a green slip.
View Comments (3)