"Modern Warfare" May Be the Best "Call of Duty" Game Yet
Gamers are "going dark" (spy speak for intentionally leaving the grid) with Call of Duty Modern Warfare. Created by Activision, Forbes calls it "The best Call of Duty [game] in a decade."
The game was officially released on computer (PC), Playstation (PS4), and Xbox One on October 25, 2019. This brand new game comes with many new game modes that differ from Call of Duty Black Ops 4, such as the single-player campaign mode which consists of a storyline that takes the player through different battles and challenges. This campaign takes about eight hours to complete depending on the difficulty of play.
Former Benjamin student and current Pine School eighth-grader Will McDonough loves the new challenge.  
"The new campaign mode is probably the best campaign I've ever played," he said. "I love the campaign because it can be repeatable and on many different difficulties." 
Eighth grader Chase Malamala agrees with McDonough. 
"I am enjoying the game very much due to the new feature
s they have added such as the co-op mode and the new campaign," said Malamala. "I enjoy the new campaign because it is very intriguing, enjoyable, and action-packed."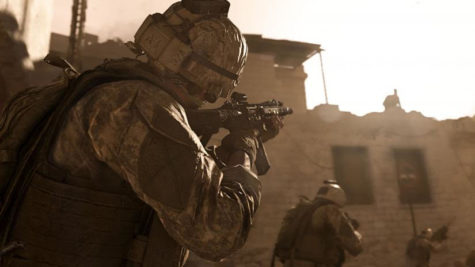 The multiplayer mode consists of several online game modes such as Team Deathmatch, Ground War, Gunfight, and many more. Team Deathmatch consists of two opposing teams that have six players on each team. The goal is to get the most kills as a team. Groundwar is very similar to Team Deathmatch, but instead of being six versus six, it is thirty-two verses thirty-two. It also contains many vehicles players can operate like planes and tanks. 
Many of these are new game modes, as well, such as Gunfight and Night Time. Gunfight is a two versus two battle that requires players to work cooperatively and use strategy to their advantage. The Night Time game mode gives players silenced weapons, flashlights, and lasers. These additions have been very promising to Call of Duty players. 
"The multiplayer is the best Call Of Duty multiplayer I have ever played," said McDonough. "I think people will play the game for a while because, in multiplayer, it is very difficult to level or rank up in all modes. It is also very fun." 
"My favorite multiplayer game mode is Gunfight," said Malamala. "I enjoy this game mode very much because it gives me a challenge. It is also very tactical and I enjoy that." 
Taking place in the fictional country of Urzikstan during the present day, Modern Warfare creates for the user a whole new realistic style of gameplay. In the campaign, characters take on different roles on the frontlines of the desert landscape and also on the streets of London as they try to track down a lethal gas that terrorists have obtained. 
"My favorite part of Modern Warfare is how realistic the game is and how the guns do not look fake," said eighth-grader Matthew Barron. "Overall the multiplayer is very fun and the campaign is the best campaign I have ever played."
While there are surely future iterations of Call of Duty on the horizon, this one seems to be superior to the previous 16 games in the franchise due to its better graphics, new multiplayer game modes, and compelling single-player campaign.