DC Preview
The eighth-grade field study in Washington, D.C. may be the most anticipated trip in the Middle School. Not only is it the lone out-of-state trip, but it allows the students to learn about our nation's past, put into context what they are learning in history class, and experience the excitement of some colder weather.
"I am anticipating the D.C trip because I want to see all the monuments [that] I have always seen pictures, but never seen in real life," said eighth-grade student Hannah Beam.
"D.C. is such a great city, and I'm looking forward to spending time outside of the classroom with students and getting a little taste of that fall weather," said Digital Media Director Mr. Nicholas Crisafi, who will be one of nine faculty chaperones on the trip.
Students will board buses at Polka Dot on the morning of Monday, November 4 and then depart for Washington, D.C. from Palm Beach International Airport. From there, it will be four straight days of walking through various museums, monuments, and other historic sites such as the White House, the Capitol Building, and Arlington National Cemetery.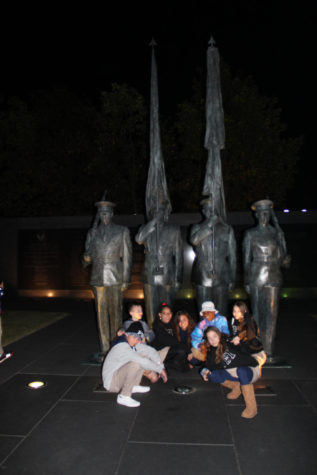 There are a few differences this year, though. 
Before the buses depart for the airport, the eighth graders will get a lesson on the different aspects of the Smithsonian Institution, a group of museums and research centers named for British scientist James Smithson (1765–1829) which is overseen by the United States government. History Department Chair Mrs. Anne Franzen will discuss with students what they will learn about American history at the museums, Fine Arts Department Chair Ms. Nancy McAllister will talk about art and culture, and STEM Coordinator Mr. Matthew Oster will address the scientific significance of what they will see. These mini-presentations will be held in various classrooms in the quad the morning of the trip.
Something else that's new this year is a mobile site that students can access through their phones to see the itinerary, contact their chaperones, and answer questions about the different sites they see.
"It will help the students have more time to enjoy the museums because typing is much faster [than writing], " said Franzen. Franzen hired a company this year to create the site so that students wouldn't have to carry around paper and pencil to each place they visited.
Also, for only the second time, the eighth grade will visit the National Museum of African American History and Culture, one of the newer Smithsonian Institution museums which opened in 2016.  
"It is important for us to go to the museum again to learn about other cultures and learn about their history and see what they have gone through," said Dean of Academics Mr. Charles Maddox who, along with Franzen, helped organize this year's trip.
In the midst of studying the Holocaust in Franzen's history classes, the eighth grade will once again visit the United States Holocaust Memorial Museum in D.C. In addition, they will make stops at the U.S. Capitol and White House, getting a first-hand account of American history which they studied extensively in sixth and seventh grade. 
"The trip is educationally rich because you cannot replace seeing things with your own eyes," said Franzen. "I could teach for a month about a certain museum, and you would still learn more from going to the actual museum."
The students are excited about this hands-on tour.
"I am excited about the D.C. trip because it will open a door to new memories, but I am most excited for the White House," said eighth-grader Robbie Brodner.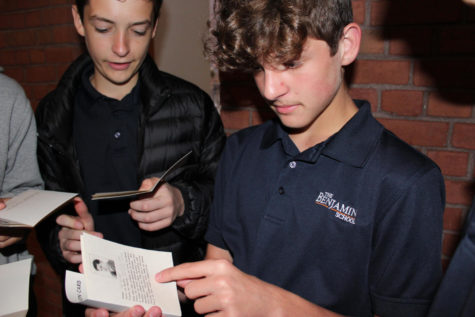 "I'm excited to see all the monuments and put everything I learned into perspective," said eighth-grader Jack Guagliano. "I am also excited to be with my friends somewhere away from school."
The D.C trip offers many opportunities for the eighth grade: a chance to bond with friends, explore an unfamiliar city, and put the students' learning into context as they visit the seat of our nation's government and get to explore the country's past.
Leave a Comment