Student Council Slate Set for the Year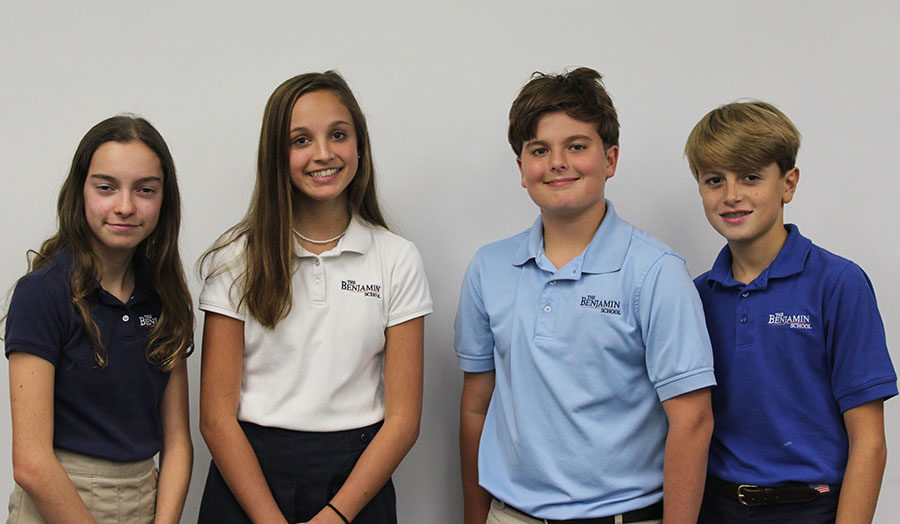 As the middle school students shuffled into their seats in the Barker Performing Arts Center, bright and early on a Monday morning, seven student council members lined up in front of the crowd to present their speeches. The candidates – Xan Blount, Matthew Brodner, Chester Coles, Emerson Ferry, Colby Mack, Maggie Smith, and JP Walsh – each spoke about one of the Benjamin values he or she embodies the most, and why he or she should be chosen as one of the four student council officers. 
The student body and the middle school faculty then voted for their four favorite candidates via electronic ballot. The winners were Coles, Ferry, Smith, and Walsh.
"I voted for Maggie and Emerson because I know that they are both very good role models and are both really nice and have really good personalities," said seventh grader Athena Lekkas.
"I voted for Emerson Ferry, Xan Blount, and JP Walsh because Emerson is a really responsible person, Xan is ambitious, and JP is smart and strategic," said eighth grader Ronnie Parson. 
After the election, all that was left was to assign the winners the positions of president, vice president, secretary, and treasurer. The other 30 student council members then voted for the candidate they felt should be president. Smith received the most votes, therefore winning the presidency. She was followed by Walsh (vice president), Ferry (secretary), and Coles (treasurer).
"I am very excited to serve as this year's president," said Smith. "I have worked so hard to get to this point, and I am extremely happy that I finally achieved it. My main goal this year is to listen to the students' opinions more and and just understand what changes they want to see."
The election process was modified last year to ensure the most able candidates were chosen as officers. "Last year we decided to include a separate faculty vote because we feel as though teachers had additional insight beyond the popularity contest," said Mrs. Anne Franzen, the Student Council's co-advisor with Mr. Nathan Ginnetty.  
In addition, due to the fact that six out of the seven students were running for president this year (as a seventh grader, Coles could not run for president), Franzen and Ginnetty decided to add the student council vote to finalize the elections. This was not necessary last year as one student ran for each of the four positions. 
Although the other three officers missed out on their goal of president, they are excited about their new roles and eager to lead the Middle School's student government. 
"I am very proud to be appointed vice president," said Walsh. "It means a lot to me to be in this position. My goals are to try to let everyone have a voice, and I will keep an open mind and always do my best and go above and beyond."
"I was very happy when I found out I was this year's secretary, and I am so lucky and fortunate to be serving the Benjamin community," said Ferry. 
"Though I was in shock when I found out because I was the only seventh grader, I was and am very happy to serve as this year's treasurer," said Coles. 
Regardless of their positions, Franzen feels the Middle School is in good hands this year with these four students. 
"All of these officers are kids that our students trust and are all natural leaders in and out of the classroom," she said. "I think they take these positions that were granted to them very seriously, and I think they will all succeed this year in Student Council," said Franzen.