Students Have Mixed Feelings About Mandatory Lunch Seating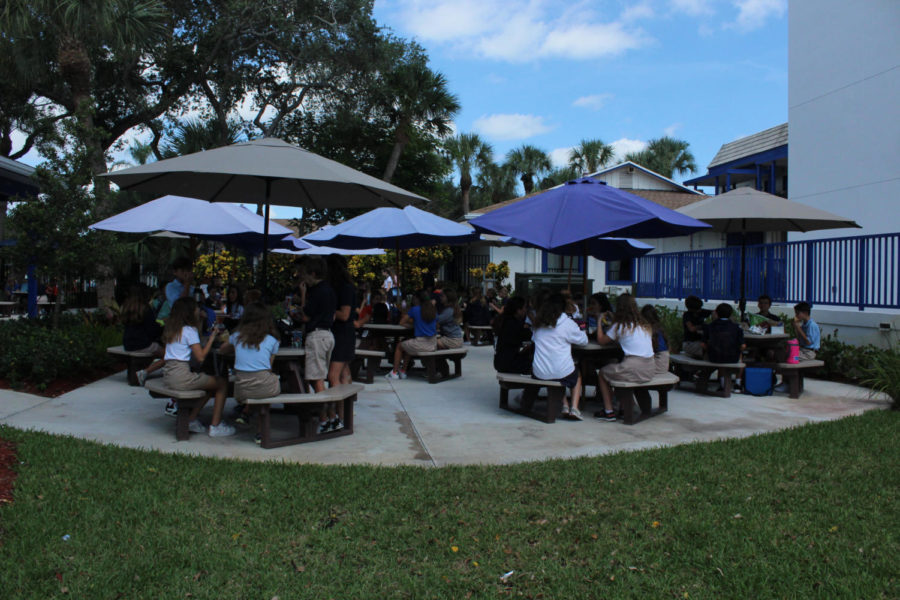 Assigned seating is something students are used to in class, but during lunch? Aimed at preventing cliques from forming and allowing students, both new and old, to meet and make new friends, it's been a middle school tradition for about a decade. 
Head of Middle School Mr. Charles Hagy, who implemented assigned seating at lunch, feels it's a valuable initiative.
"We decided to experiment with structured seating during lunchtime," he said. "The purpose is to have students rotate throughout the grade so they can meet and talk to one another and know one another."
According to Dean of Students Mr. Jeffrey Cavallo, the mandatory lunch seating is also designed to let new students meet returning sixth and seventh graders. "We try to rotate them every three or four weeks to give them a couple of chances to meet other people, especially new students as well," said Cavallo.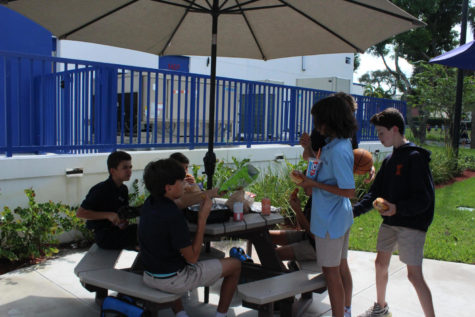 So far this year, there have been mixed reactions to the assigned seating which Cavallo creates randomly. According to a poll of 68 sixth and seventh graders conducted by The Neersyde, 59% said assigned seating helps them connect with other students with whom they normally wouldn't speak. In addition, 60% said it helps them make new friends. However, an overwhelming 88% said that assigned lunch seating should not continue. What conclusions can be drawn from this data? It seems clear that the majority of students enjoy meeting new people and making new friends, but they won't do so unless they are forced to. So, it seems like the assigned seating, even if most students don't want to continue it, is a good idea.
According to the poll, the majority of sixth and seventh graders agree.
"I enjoy assigned seating because I get to meet new people and meet new friends," said sixth-grader David Venoff, a first-year TBS student.
"I think it is valuable because it helped me get more friends," said fellow sixth grader Kuzey Ozdemir, another new TBS student.
Even students who would prefer not to have assigned seating see its advantages.
"I would prefer to be sitting with my friends, but I think it is very beneficial for new students to meet new people," said seventh grader Reagan Donohue.
The teachers seem to think the assigned seating is a good idea as well. "I think once that a group shows that they are mature enough to sit properly, [they can sit by themselves], but if they prove they can't, then you stay with it until they are mature enough," said physical education instructor Mr. Gregory Keller. 
"I do think that it is meeting the goal that Mr. Cavallo and Mr. Hagy have set out for encouraging students to speak with people who they might have not sat with," said first-year math teacher Mrs. Linsdey Tanona.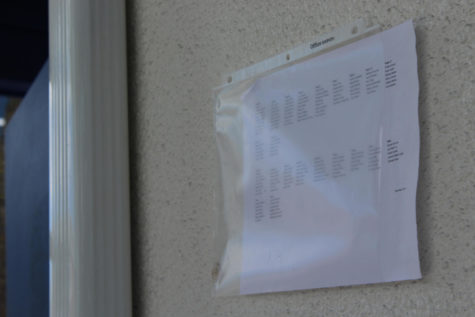 Some students, however, do not find assigned seating valuable or effective.
"I have a lot of classes with [the other sixth graders], so I sort of already know them," said Drew Palmer, a new sixth-grade student. 
As of right now, eighth-graders don't have a seating chart and can sit with whomever they please during lunch. 
"Since it's your last year of middle school, you already know everyone and you just have a better idea of who you want to sit with because if you don't like someone, then you don't have to sit with them," said eighth grader Chloe Fong. 
In addition, some of the eighth graders found the mandatory seating to be useful. 
"It was helpful for me because I got to know most of the people in the grade," said eighth grader Logan Smith.
Other eighth graders, though, felt that the assigned seating in sixth and seventh grade wasn't effective because the students weren't held accountable.
"I feel like everyone just went to whoever they wanted to sit with, [and] it wasn't enforced," said eight grader Hannah Beam.
 The fact that poll results showed the majority of sixth and seventh graders feel assigned seating helps them meet new people and make new friends may also help produce a positive environment within the Middle School. The division has been designated a No Place for Hate® by the Anti-Defamation League for the past six years.
"I think [assigned seating] does [create a more positive atmosphere] because everyone knows each other and most people have a lot of friends," said seventh grader Chris Tighe.