Mr. Reid Making the Most of His Time as Interim Head of School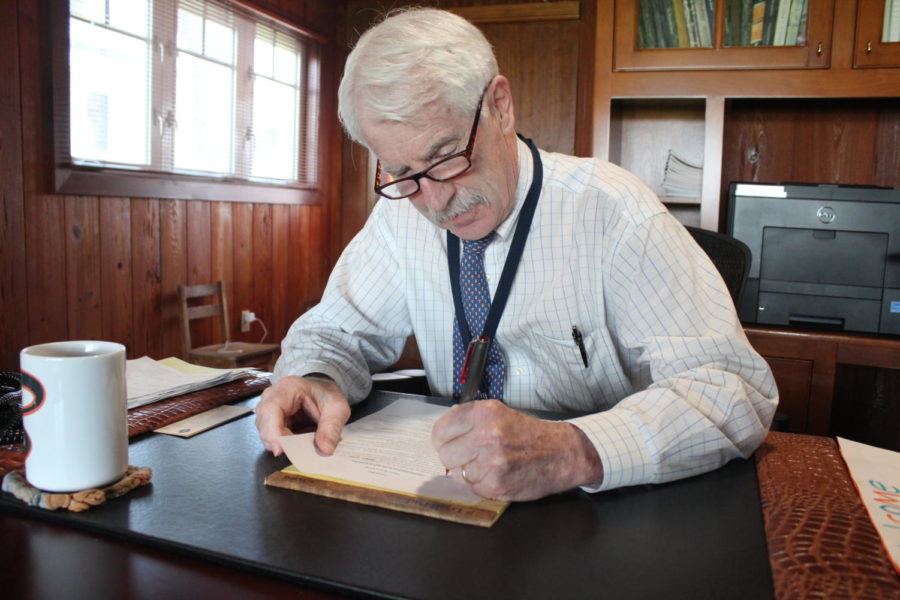 Author and Mormon leader Sterling W. Sill once said, "We can cross the rivers of doubt and discouragement on the bridge of faith even before we get to them." 
Ever since the passing of former Head of School Mr. Robert Goldberg in March of this year, the Board and school community have been on the lookout for just such a bridge – a new interim head of school who can lead TBS until the permanent head is hired. There have been several interviews, many different applicants, and most of all, a great deal of hard work put into finding somebody who is right for the job. After countless hours, that individual is here: Mr. Thomas J. Reid. Mr. Reid's resume speaks for itself, "I have experience in a lot of different types of schools, both as a teacher and an administrator," said Reid.  I've taught lower school, middle school, and upper schools, I've been an athletic director, and a dean of students. I've been a headmaster, and this is my thirty-second year [being involved in schools]."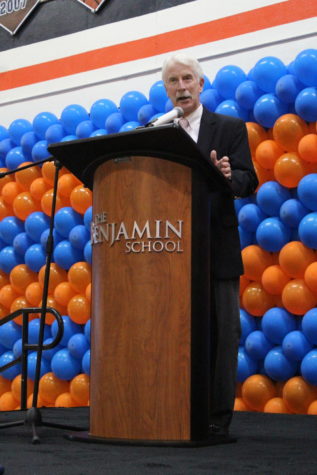 For the past six years, Reid has served as an interim head at several different independent schools up and down the East Coast, from Miami to New Hampshire. Prior to that, he was headmaster for 11 years at St. Paul's School in Lutherville, Maryland, a K-12 school like TBS. 
Reid chose to helm TBS this year because of its impressive culture and quality of programs. "It's a bit early to state the one thing that impresses me most," said Reid, "but I lean toward saying excellence and balance in the program and students' activities. We put academics first, but co-[curricular] and extra-curricular opportunities are abundant, and we excel in so many of them. Our print and TV journalism programs are outstanding. The competitiveness of our athletic program is remarkable. Middle School entrepreneurs won a national title. And, given what I have been told, I cannot wait to see and hear theater and music performances."
While Reid has been a leader at many different institutions, he feels Benjamin is one of the most impressive. "TBS is the largest school I have headed and the first with two campuses," he said. "Despite that, it has a spirit of a community equal to or superior to any. Also, the curriculum flow and coordination across the fifteen years is remarkably smooth. Few schools can say that."

Along with the Board and administration, certain factions of the faculty and student body were chosen to meet with and interview Reid prior to his hiring. 
"The members [of the student search committee] and I were asked what qualities we thought were needed in a new head of school, and the search committee company [Carney-Sandoe and Associates] found people who matched [what we thought we needed]," said eighth grader Atticus Fasnakis-Nosal.
He, along with seventh graders Chester Coles and Ella Bailey, eighth graders Addy Vining and Winni Cox, and freshmen Alex Fleming Lake, Jessica Holland, and Katia Orsic, had the opportunity to meet with Mr. Reid over lunch during the second semester last year. Shortly after the students and faculty search committees provided their feedback to the Board, it was decided that Mr. Reid would be the interim head of school. 
"While we shared what we liked about The Benjamin School, didn't like about it, and so forth, he could relate to us since he could step into our shoes as a middle schooler, not as an adult," said Fasnakis-Nosal.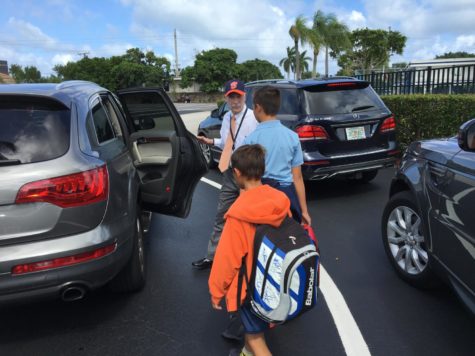 While the search for the School's permanent head is coming to a close – interviews for the final three candidates are underway – Mr. Reid is committed to bridging the gap and making the transition as smooth as possible. "One [of my goals] is to maintain a sense of momentum and progress with the goals that the School has had in place around the strategic plan and the accreditation responses from the Florida Council of Independent Schools, to help with the transition once the new head of school is selected, and to maintain as high a level of spirit and engagement as possible over the course of the year," said Reid. Reid is aided in his endeavors by his wife, Mrs. Ann Reid, who may be starting a sewing club for students later this year. Together they have two children, two grandchildren, and one dog. "Our dog Sadie is a black labrador," said Mr. Reid. "She is eight years old, [and] she is spending the year with our son's family in Massachusetts. They have a yellow lab, Katie, who is a good companion." 
While Mr. Reid wears many hats – head of school, husband, father, grandfather, and dog owner to name a few – there is one of which Mrs. Reid is particularly fond: role model. : "I am the most proud of all the students that he has positively impacted," she said. "And I would say that I think one of his biggest strengths is that he is always a student, he is always learning, and not just always teaching."
Such lifelong learners, sometimes, make the best bridges of all.