Students Excited About New Lunch Menu
Chick-fil-A every Friday! A dream for all middle school students is now a reality. Thanks to a revamped partnership with three new vendors this year – Chick-fil-A, Honey Baked Ham, and Jersey Mike's – the middle school lunch menu has a whole new look.  The impetus for the change was a survey Head of Middle School Mr. Charles Hagy gave to a select few students last year.  
"Chefcorp was a really high-quality, healthy lunch, but [the] kids were telling me that they wanted a little more name-brand [food]," said Hagy, "so I gave them those surveys which were primarily to my advisory and my history class.  The response to our lunch menu last year had 40 to 50 percent of the students enjoying it. Now it's higher due to our school adding Chick-fil-A, [Honey Baked Ham], and Jersey Mike's," said Hagy.
While the lunch menu had to be tasty, Hagy also wanted healthy options that would not just promote fast food.
"My goal is to always be healthy," he said. "Middle school is a time where you train yourself to continue good habits. I like to call them the habits of life," said Hagy. "Due to health reasons, we eliminated fries with [students'] Chick-fil-A [meals] and replaced them with healthier options such as salad and fruit."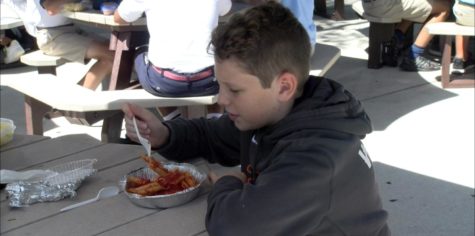 This year, several choices of pasta or salad on Mondays from Big Apple replaces Chefcorp's hamburger or cheeseburger or chef's salad from last year. Jersey Mike's subs replace Chefcorp's subs on Tuesdays, while Big Apple pizza remains the lunch on Wednesdays. Honey Baked Ham turkey or ham sandwiches or salad supplant Chefcorp's grilled steak or grilled chicken burritos or a chef's salad on Thursdays, and Chick-fil-A's fried chicken nuggets or chicken sandwiches or a side salad and fruit cup take the place of Chefcorp's pizza pockets or chef's salad on Fridays. 
"The survey results showed that students enjoyed Chick-Fil-A and Jersey Mike's a lot," said Hagy. "Chick-Fil-a came first, then Jersey Mike's. 
The middle school students overwhelmingly like the new changes. Of the 110 students surveyed by The Neersyde last week, 94% said they prefer this year's menu to last year's. In addition, 72% of students selected Chick-fil-A's lunches as their favorite overall (46% chose nuggets while 26% chose the chicken sandwich).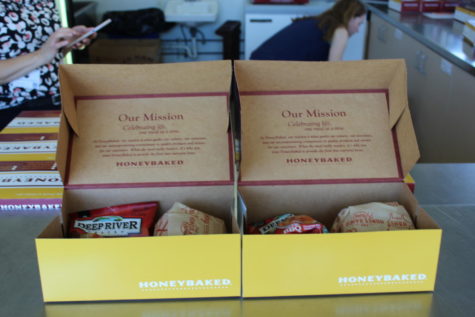 "I kind of like Chick-fil-A, but I would rather have the French fries over the chips," said sixth-grader Chase Connor.  "[I also like having] Chick-fil-A every Friday because it is convenient – I don't have to bring my lunch from home on Friday's anymore."
"Honey Baked Ham is very good because it is something different," said eighth-grader Finn Martin.  
 "Big Apple is very good," said sixth-grader Taylor Nicklaus. "I love their pasta – it is very tasty."
 Hagy was able to please students while also maintaining healthy lunch options, making it a win-win situation. In this way, the students could have their cake, er, Chik-fil-A, and eat it, too.
Leave a Comment