Maglio Family STEM Center Opens to Great Fanfare
A new era of technology and science has begun at The Benjamin School. The Maglio Family STEM Center was completed over the summer and officially opened on August 11, a celebration that included a ribbon-cutting ceremony by the Maglio and Grande families in front of the building and in the gym, speeches by new Interim Head of School Mr. Thomas Reid and Chief Development Officer Mr. Juan Carlos Fanjul, and a tour of the facilities for the more than 300 members of the TBS community in attendance.
"I'm excited because I came here in sixth grade, and now in eighth grade, I can explore the building," said Michael Louis, who also addressed those in attendance at the grand opening. He was the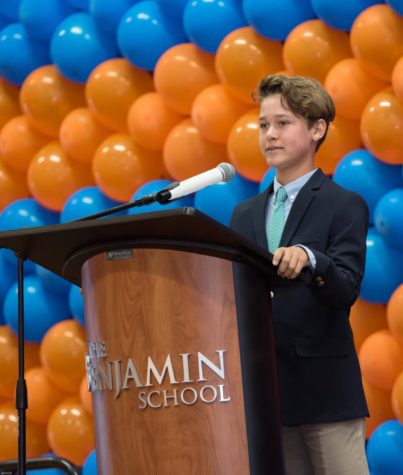 only student speaker, and he talked about his enthusiasm for the possibilities offered by the new facility.  "I was in awe [after seeing it completed]," said Lewis. "I thought it was just going to be an ordinary building, and it ended up being something that you would expect out of a sci-fi movie."
The sci-fi movie reference is the result of the technology within the center which includes brand new stereo dissection and compact microscopes, virtual reality headsets, a laser cutter, 360° cameras, and an array of 3-D printers. The 13,000 square-foot facility houses the middle school classes on the second floor and the lower school classes on the bottom floor.
"The STEM center will be the model of Florida," said Middle School STEM Coordinator Mr. Matthew Oster. "I'm excited for all of the teachers and students to actually come in and use it." 
That's right. Oster and Head of Middle School Mr. Charles Hagy want every student and every teacher in every class – from history to Spanish to dance – to use the technology available to them in the new STEM facility.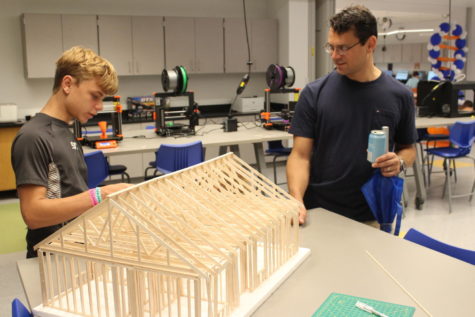 "I am very excited about using the VR Goggles," said World Language Department Chair Mrs. Marci York, who would like to use them to provide her students virtual tours of French landmarks and museums. 
"I like how you can design something in one room and then go to the other to put it on the 3D printers to make a model or tool," added eighth-grader Robert Letsche. 
Maybe the most impressive aspect of the new building is that the students will use it to solve real-world issues facing the community.
"We created a marine lab in room 52 where we are going to be propagating mangroves – we have over 300 plants in there now – and we'll be using the STEM center to actually create devices to help filter microplastics out of the water, and we'll be working with the Loggerhead Marinelife Center on that project," said Middle School Science Department Chair Mrs. Stephanie Oster.
Leave a Comment