Remembering Mr. Goldberg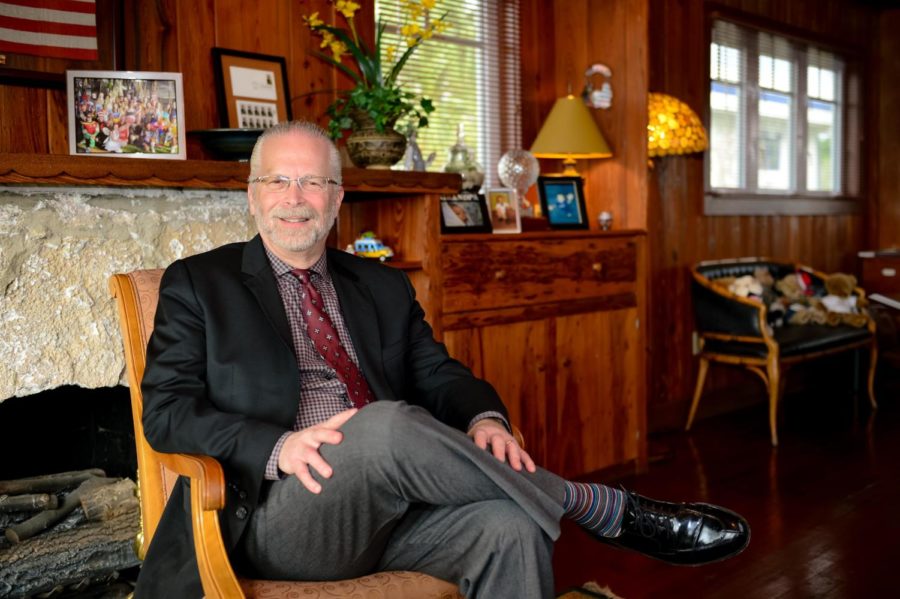 TBS Head of School Mr. Robert S. Goldberg passed away Sunday, March 10 at the age of 67 after an 18-month battle with pancreatic cancer. Born February 11, 1952 in Philadelphia, Goldberg began his educational career at the age of 21, teaching Spanish at a public high school in southern New Jersey. He moved up the educational ladder as he became an administrator at various independent schools throughout the country, such as Pingree School in Massachusetts, McDonogh School in Maryland, Canterbury School in Fort Myers, and Pine Crest School in Fort Lauderdale.
Goldberg was the head of school at Benjamin for 11 years. He instituted a number of programs and initiatives that not only improved TBS, but broadened the scope of Benjamin's reputation among the top independent schools in the nation. For example, he introduced the Mandarin Chinese program in the Lower School, a one-to-one laptop program in the Middle School, the School's engineering program, the Cum Laude Society chapter, major upgrades to security on both campuses, and the building of Benjamin Hall and the new Maglio Family STEM Center to name a few.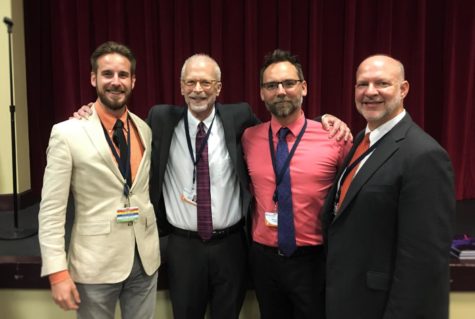 However, his biggest impact was on those he worked with and those he worked for, namely, the students.
"Whenever I talked to him he seemed so happy and loved what he did for a living," said eighth-grader Alex Fleming Lake.
"He was really interested in every single person on campus and really cared about what you had to say," added fellow eighth-grader Carter Smith.
In remembering Goldberg's legacy, some are reminded of the emphasis he put on family. "I always forgot to save time for my family, but Mr. Goldberg helped me remember to put my family first," said Head of Middle School Mr. Charles Hagy. "[Also], spending time with students was one of the most important things he left with me."
One of the things he will be remembered for the most is his sense of humor and his easy-going personality. "One of the most memorable things about him was his laugh," said Hagy. "I was on the team that was choosing the new Head of School [back in 2008], and [Mr. Goldberg] was there and I knew I remembered him from somewhere with his bright attitude and cheerfulness. Then he began to laugh, and I knew exactly who he was, and [that] he was perfect for the job."
"He was like the father of the school," said eighth-grader Gabe DiFilippo. "He was such a good man, and we did not see him as a school leader, we saw him [more] as a father toward his students."
Last year, the staff of the Azimuth, the middle school yearbook, dedicated the book to Mr. Goldberg, which is one of the highest honors that an individual can receive from the School.
"We wanted to make the dedication really meaningful to him," said eighth-grader Charlie Spungin, co-editor of this year's Azimuth and The Neersyde, the Middle School's news site. "He was going through so much at the time, and he did not deserve any of the troubles he had. [Mr. Goldberg's] reaction was something I will never forget, the smile on his face was touching," he said.
Students also admired the grit and determination Goldberg showed in his battle with cancer.
"He was a great person and fought to the end," said seventh-grader Julian Janin. "It is only now I realize how much of an impact he had to inspire me to do more for me and other students."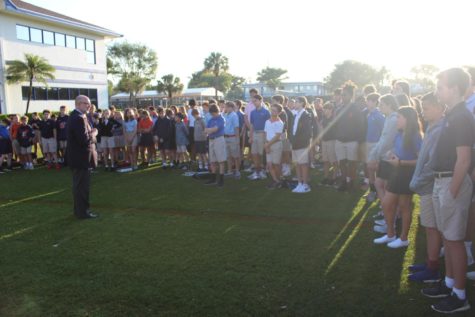 A memorial service was held on March 31, 2019, in honor of Mr. Goldberg. Several stories were shared there by those who spoke. Friend and colleague, Mrs. Joanie Garretson, a lower school teacher, said, "Every one of us who knew Bob and an worked alongside  him…will remember him with great affection. And colleagues like Bob are something very special – you do not come across many of them. And when you do, they leave a lasting impression."
Former Board of Trustees Chair Mr. Dan Stanton added, "Bob had such a lightness of spirit, and he was never happier than when he was with the kids."
Goldberg's son, Mr. Lee Goldberg, who also spoke at the memorial service, may have said it best as he looked out into the audience from the stage. "By a show of hands," he said, "who of you are students or alumni? He was here because of you. By a show of hands, who of you are parents, teachers, board or committee members? He was here for you. Who of you are others in the community: business owners, public servants, anyone and everyone? He was here to serve you by bettering the community by producing highly effective individuals."
Indeed, we can all say The Benjamin School is better off for having been led by Mr.Goldberg, and we are all better off for having known him.