Middle School Welcomes Grandest Friends to Campus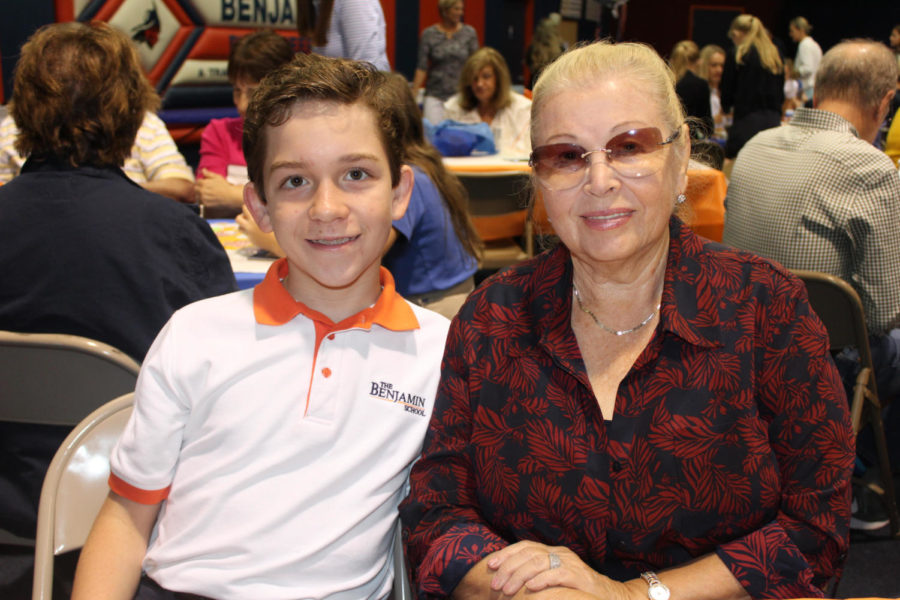 Yes, they like to embarrass you in front of your friends and pinch your cheeks, but according to Mr. Hagy, inviting grandparents (or relatives or family friends) to campus is "one of the greatest days of the year." Every March, TBS hosts Grandest Friends' Day in each division, and it was the Middle School's turn on Wednesday, March 13.
This was a Benjamin Parents Association (BPA) event, so it was chaired by Mrs. Alissa Ferry (mother of Morgan '31, Reese '26, and Emerson '24), and Mrs. Christy Sheehan (mother of Kate '32 and Jack '31). They helped decorate the gym and provided delicious refreshments from Panera Bread for students and their grandest friends to share.  
"So every year we have a different theme," said Mrs. Ferry. "This is year was 'Capturing the Moment.' What is so special is every grandest friend was able to bring home a framed photo this year with a picture of them with their child – something to remember this special day," she said.
All middle school students had their photos taken with their grandest friends in the gym. The photos were printed right away, and the students and their guests were given frames to put the photos in and decorate with stickers and washi tape to make it a special keepsake.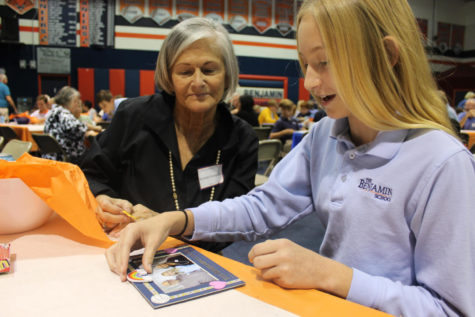 "My favorite part of this grandest friends day was spending time with my grandest friends and decorating the picture frame," said seventh-grader Logan Smith, who welcomed his grandparents, Mr. Phil Philbeck and his wife, Patti, to campus.
Many students also enjoyed being in the presence of their grandparents.
"I just enjoyed spending quality time with my grandparents," said sixth-grader Scott Noble, whose grandfather, Mr. John Marino, joined him for Grandest Friend's Day.
To begin the day, students met their grandest friends at Polka DOt and then escorted them to a specific classroom based on the students' grade levels. Each student was assigned a group, and that group rotated through classes with teachers explaining their curricula and programs.
Afterward, students and grandest friends moved to the gym where they had their photos taken and enjoyed the refreshments. Benjamin Parents' Association president Mrs. Kori Searcey welcomed the grandest friends and Head of Middle School Mr. Charles Hagy thanked them for their attendance and support. In addition, there were card games such as Uno, Old Maid, and Go Fish laid out on each table in the gym so students could play cards with their grandest friends.
"This was one of my favorite days of the year," said seventh grader Matthew Brodner. "I enjoyed playing cards with my grandest friend the most."