The Marshall Benjamin Scholarship Is A Great Opportunity For Eighth Graders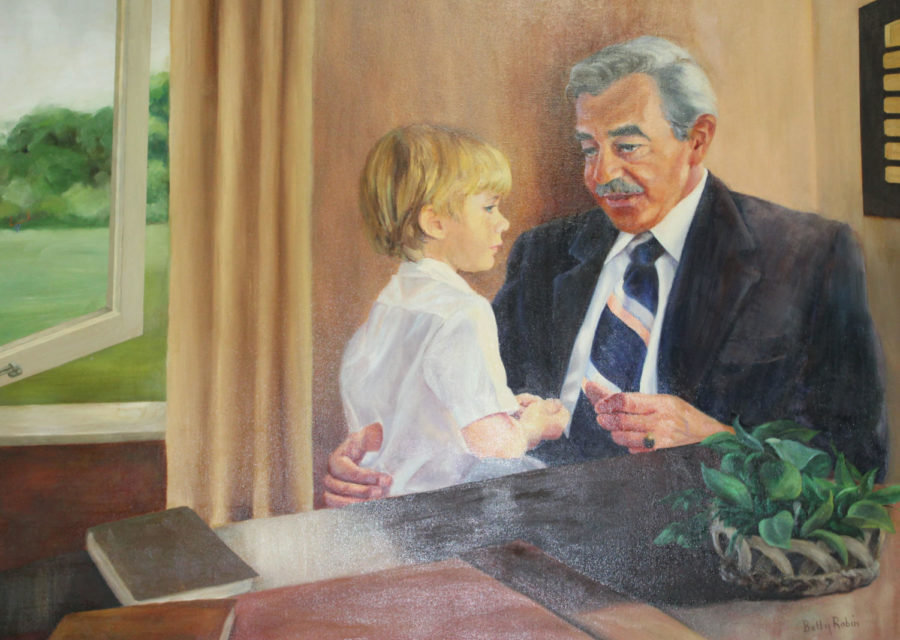 Several accomplished Benjamin eighth graders could be awarded as much as $16,000 each over the next four years thanks to the Marshall Benjamin Scholarship.
At TBS, this scholarship, named after the former co-founder of the school, Mr. Marshall Benjamin, is given to several rising ninth graders who matriculate from the Middle School to the Upper School. These students are awarded the scholarship based on merit, meaning they have proven themselves via their academic performance, school citizenship, and leadership. In other words, these are students who have gone above and beyond and made a meaningful impact on the TBS community.
"I think this scholarship is great because it gives students something to work even harder to achieve rather than just grades," said eighth-grader Jack Lytal.
The Marshall Benjamin Scholarship offers two distinct financial awards: there is a $1,000 scholarship as a one-time scholarship and another scholarship that is worth $4,000 per year, which equates to $16,000 in total.
It's a great incentive for motivated students who want to continue their high school careers at Benjamin's Upper School.
"I would hope to get this scholarship, and [I] have been working very hard toward achieving [it]," said eighth-grade student Alexander Fleming Lake.
According to Director of Student Services Mrs. Susan Poncy, there is a Marshall Benjamin Scholarship Committee who sets forth the parameters for the applicants and reviews each candidate. The committee is comprised of mostly upper school administrators, some of whom are also teachers, and the number varies from year to year, but there are typically about seven to eight people who serve.
"Because I assist with the coordination of the scholarship applications in the middle school and help the students with their applications, I too sit on the committee," said Poncy.
Poncy also mentioned that to be considered for the award, the committee looks for students with an outstanding academic record (3.50 or better GPA in grades six through eight), strong leadership potential, the ability and willingness to contribute to Benjamin's co-curricular program, solid citizenship, and scores that are in the 90th percentile or higher on the ERB quantitative reasoning and/or verbal reasoning tests. In addition, applicants must obtain two teacher recommendations and write an essay about why he or she is a worthy candidate for the award.
The scholarship has been in existence for at least 15 years, and the money for the scholarship is set aside by the School out of the annual budget. Previous students that have received the Marshall Benjamin Scholarship, like sophomore Briley Crisafi, were involved in many aspects of the School.
"In middle school, I was a member of the Sparklers dance team, MVP of the cheerleading squad, a regular participant in dramas and musicals, and a member of Student Council each year," said Crisafi. "[During] my 8th-grade year, I was elected president of the middle school student body. This was a wonderful opportunity for me to work with the faculty and students, and make changes I cared about in hopes of improving the School for those to come."
Crisafi believes that while academics and involvement in school activities are important, what matters most is embodying the twelve Benjamin Values.
"A true Benjamin student does not receive awards and scholarships through simply listing a number of achievements or activities," she said. "They strive to exemplify their best character at all times, which is the greatest aspect that will be evaluated in an application."
Crisafi also has some advice to those current eighth graders applying for the scholarship.
"To those moving up from the middle school or coming in from different places, the Marshall Benjamin Scholarship is beneficial because it acknowledges their dedication to the School and [their desire to] improve upon themselves each day. I found that it was great motivation and encouragement to continue to try my best in all areas of my life, and because of this reassurance, I felt very successful my freshman year," she said.