Take A Closer Look At The Nook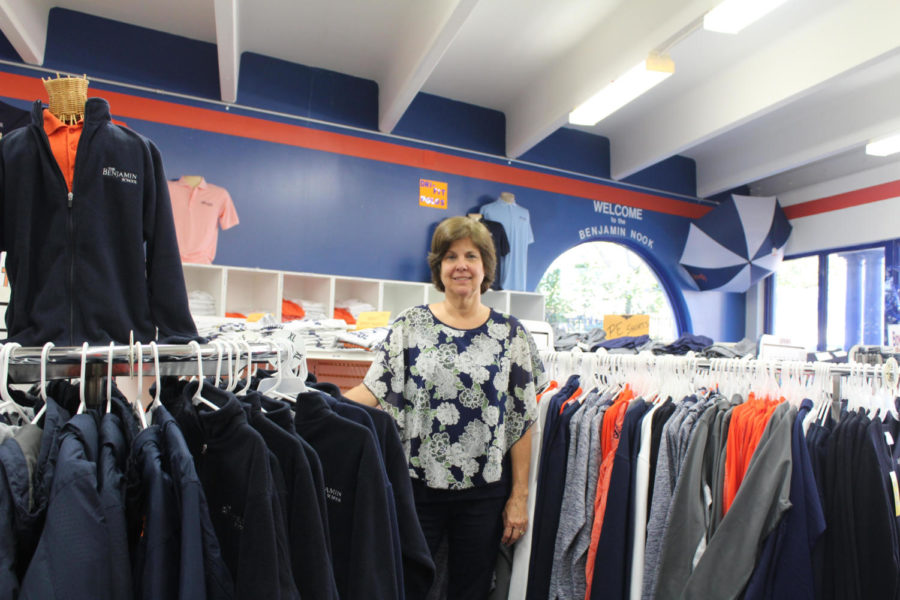 There are many unsung people and places that help make The Benjamin School what it is. One of these is the Nook, the school's uniform store located on the Lower/Middle School Campus inside the Fine Arts Building. Every single bit of Benjamin insignia clothing comes straight from the Nook. Without this school store, uniforms would be hard to come by. Benjamin has had the benefit of the store for 35 years according to Middle School Administrative Assistant Mrs. Angela Lokitus. Running the Nook is no small task as there are hundreds of uniform orders and inventory of which to keep track.
That's where Ms. Rolanda Crawford, the store manager who has worked at the Nook for six years, comes into play. She runs the store and makes sure everything is always in order. During the summer, when the store is at its busiest, two other employees also assist Ms. Crawford.
However, these individuals are not TBS employees.
"Another company runs the Nook called Risse Brothers School Uniform," she said. "They are responsible for everything inside [the Nook], and Benjamin owns the building.
While Risse Brothers, a Florida-based company that opened in 2004, embroiders and supplies all of the Nook's clothing options, TBS still gets a share of the profits.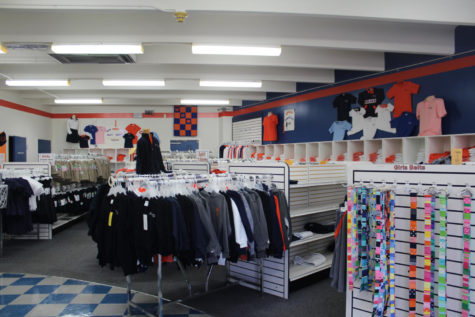 "Benjamin gets a percentage of all sales," said Crawford, "[and] they get 100% of used uniform sales. Benjamin just charges [Risse Brothers] for occupying the space of the store and the Risse Brothers sell the uniforms in the space.
They have only run the Nook for the last two years, but Benjamin [and Risse Brothers] make a profit every year.
In addition to sales, Crawford's job is to make sure the TBS community has everything it needs in terms of uniforms.
"They order the school items, and I just let them know when we're low on certain things," said Crawford, who works from 7:00 a.m. until 4:00 p.m. Monday through Friday. She even works extra hours sometimes to make sure the store is well stocked with everything from polos, shorts, and skirts for middle and high school students to blouses and jumpers for those in Lower School.
Crawford's actions don't go unnoticed, though.
"They have some pretty cool clothes and accessories that I like to wear," said eighth-grader Cole Grande, "like the Under Armor sweatshirts and very comfortable sweatpants."
Fellow eighth-grader Mason Sukhu agrees. "They have some pretty cool sweatshirts, and I must say that the sweatpants are the comfiest," he said.
However, some students would like to see more variety in what the store offers.
"There are still things that I want the Nook to have, like Nike instead of Under Armour, and lower prices," said eighth grader Nicolas Frezin.
Still, it's hard to argue with the convenience of the Nook being on campus and open Monday through Friday.
"It's great how easy it is to get your clothes for school any day," said eighth-grader Bella Garaj.
Being on campus and interacting TBS families on a daily basis is what Crawford enjoys most. "Talking to the parents and students is one of my favorite parts of coming in every day for my job," she said.  
Although the Nook has been around for a long time, the clothing hasn't always stayed the same. In fact, two years ago, as part of Benjamin's rebranding campaign, the School had the store discontinue many of the different colored polo shirts that it offered. Red, black, maroon, yellow, and green were all done away with.  Now there are just navy blue, orange, white, and pink to reflect Benjamin's school colors (pink was a holdover option kept for the girls).
The Nook is not to be confused with Benjamin's online spirit store  (www.spiritshop.com) as they are separate and run by different entities. The spirit store, while it offers appealing and comfortable athletic wear, sneakers, and accessories (backpacks, chairs, etc.), it does not sell school uniforms. The Nook is the only place to purchase official school uniforms, and it also offers dressing rooms where you can try items on before buying them.
With its large selection, convenient location, and friendly staff, the Nook definitely seems to be the right fit when it comes to supplying students with their TBS uniforms.