Heritage Day Brings Together Families, Food
As students began to settle in for the Thanksgiving break on Friday, November 16, the sixth-graders celebrated their "Coming to America" project which allowed students to share a family member's experience immigrating to America through the creation of a journal complete with drawings, text, and photos. This project culminates in Heritage Day, the last day before Thanksgiving Break, where students bring in dishes from their ancestors' home countries and share with each other the culture of their family heritage.
This year, Heritage Day was staged in the gym for the first time and allowed students to gather with their families and share food.
"They divided the gym in half and set up tables where each student was required to bring in a dish from where they came from," explained sixth-grade history teacher Mrs. Chrissie Ferguson. "Parents and grandparents came in to feast with their children. The students explained their CCE [Center for Creative Education] project and their Coming to America journal in front of other people," she said.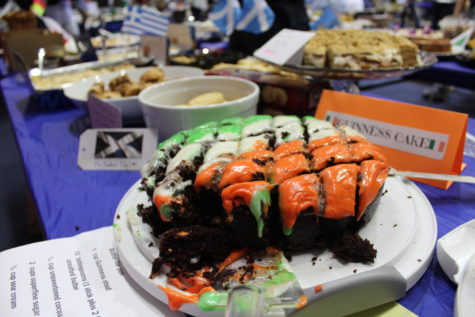 A humanities project that combines elements of both English and history, the students worked on their "Coming to America" project in their English classes for several weeks leading up to Heritage Day.  
"The 'Coming to America' journal helps the students learn more about their ancestors and make a connection to their past," said sixth-grade English and history teacher Mrs. Denise Ponchock.  
"In English and history class, students try to have more of a humanities approach to this type of project which helps bridge the two classes, so students are studying an ancestor who left his or her country," she said."They dig into that ancestor's past to find out what was happening in their country and why it was an environment that was difficult to live in."
As well as creating a journal based on an ancestor or family member, students also created an art piece reflecting their unit of study in their history classes.
"We had the CCE [Center for Creative Education] come into our block periods for eight weeks to work with our sixth-grade students on their Jamestown-inspired art projects," said Ferguson. "They had to come up with a symbolic representation of something that had taken place during the Jamestown era," she said, referring to the first permanent English settlement in America which was in Jamestown, Virginia.
The CCE is a non-profit organization whose mission is to strengthen the presence of the arts in classrooms throughout Palm Beach County.
Although Mrs. Ponchock, Mrs.Ferguson, and the artists from the CCE guided them along the way, the sixth-graders were the ones who created their projects.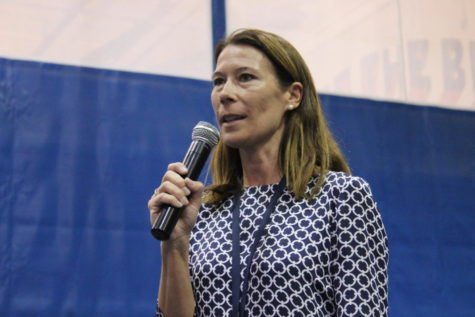 "I did [my journal] on myself since I came to America from Saudi-Arabia," said sixth-grader Faisal AL Naimi. "I liked doing it because it is a memory from America and people would get to read my story."
AL Naimi also spoke about the artwork he and his group created with the help of an artist from the CCE. "The art piece I created came out great. I did it on Plymouth, [and it represented] the Indians helping the pilgrims," he said.
"I did my journal on my mother which was cool because my mom talked to me about her immigration," said sixth-grader Rachael Rotter. "She is from Malaysia and she came here to start a new life."
Rotter also enjoyed working with the CCE.
"The art project was cool because my group and I made two boxes: one [representing] struggle, one [representing] peace, [and how that] connected with Jamestown," she said.
In working on these projects, students not only learned a lot about history and their families, but it also opened their eyes to other cultures and the diversity around them.
"It was such an amazing experience writing the journal and also creating the art," said AL Naimi. "The event, in general, helped me realize how many people with different backgrounds go to this school."
Leave a Comment