Maglio Family STEM Center to Promote Technology and Growth Mindset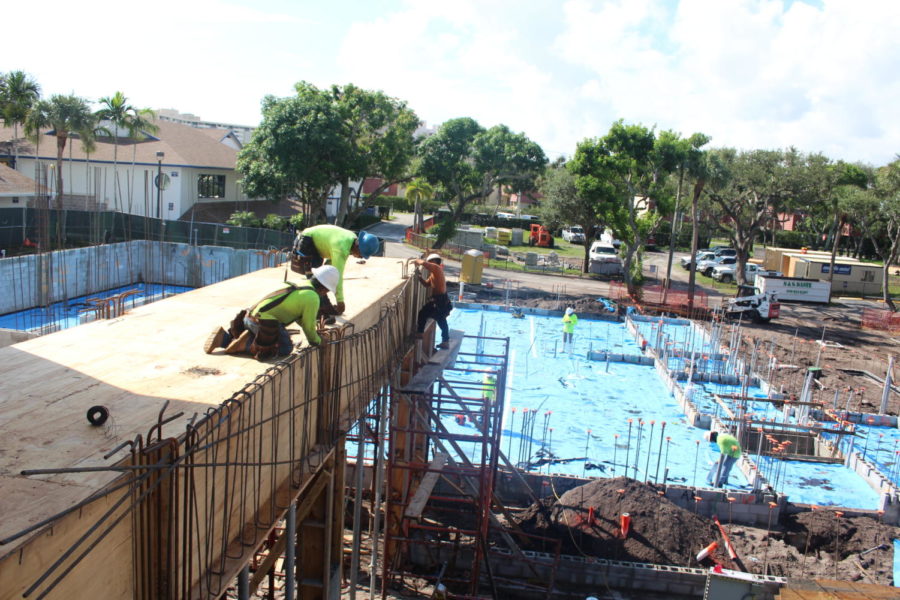 Challenging problems. Fun experiments. A more advanced curriculum. The Maglio Family STEM Center is a new opportunity for students to extend their boundaries of knowledge as it relates to science, technology, engineering, and math. The building, which is currently under construction and slated to open its doors in April of 2019, was named after the Maglio Family because of Mr. and Mrs. Bill Maglio's generous donation of $2.5 million. The Maglios are grandparents of current eighth grader Cole Grande and current fifth grader Avery Grande. The new facility, located on the south side of campus near Red Dot, will be open to all lower and middle school students, and will feature new technology such as a state-of-the-art computer lab, maker spaces, and classrooms designed for coding and engineering . The STEM Center will help build a curriculum that includes STEM in all classes, especially in the Middle School.
"If you're an English teacher and you have this terrific project that involves science, technology, engineering, or math, you have an opportunity to use that building," said Head of Middle School Mr. Charles Hagy. "The same with any [other] teacher. [Even] Coach Keller [who teaches] P.E. wants to use it. This is not a science room. This is not a science building. This is a middle school facility that every teacher and every student will use," said Hagy.
Middle School STEM Coordinator Mr. Matthew Oster is looking forward to what the facility will allow teachers to accomplish.
"The new STEM building will house all [of] our STEM activities, labs, [and] experiments for the whole Middle School Campus," said Oster. "Some of the things we're going to be doing are biotechnology, genetic transformation, we'll be doing higher level physics with robotics. The robotics will include ROVs, Remote Operating Vehicles, [which can be used] underwater, drones, and other types of robotics using coding." Many of the ROV's will be programmed with the coding that students are making with CoderZ, a coding website.
Not only is this building big, but it's actually going to be one of the biggest buildings on campus. The building has two floors and will be a total of 13,171 square feet according to Benjamin's website. The first floor will be used by the Lower School, and the second floor, which will have three rooms, will by used by the Middle School.
Although the new building will benefit TBS's curriculum greatly, it will also come with a very expensive price tag of over $4 million, which will be paid for with donations from the TBS community. Currently, the School is soliciting donations of$200,000 to name a room, (there are a total of five labs and makerspaces available), or $50,000 to have one's name on a large donor wall plaque on the first floor, and $25,000 to have a small donor wall plaque ] also on the first floor. The building will also include a 30-foot Skybridge that will connect the second floor of the STEM Building and to the existing math and science building (Building 14) next door.
"One of [the rooms will be] devoted to biotechnology, one of them [will be] devoted to engineering and building [and] designing things, [and] the other room will be a design fabrication lab and a coding lab," said Hagy.
Mr. Oster commented, "My favorite part [of the new STEM Building] will be watching the students getting excited about science," said Oster. We're going to be doing some real experiments and problems."
The new facility indeed will allow students to learn a great deal while also having fun.
"[I am excited for] the computers, the 3D printers, and all the [other] new tech.," said eighth grader Aadi Patel.
"A larger science facility [that has] a lot more resources will help our school curriculum," added seventh grader Zoe Cooper. "The new building will provide improved equipment [and] a lot more space for all the classes," said seventh grader Chase Malmala. I'm really excited for the STEM curriculum in general [especially because] math and science are some of my favorite subjects."
Although the STEM Building is scheduled to be completed in April of this school year Oster has a plan to speed up the process by moving the equipment from the old science rooms to the new STEM Building. "[My] science room already has a lot of the equipment for the new building," he said. This way in April, hopefully when we get occupation, we literally just move all the equipment from this room into the three different rooms that will be used [for the Middle School]."
According to Mr. Hagy, the Maglio Family STEM Center will not only introduce students to new technology, but help foster a growth mindset. "It's really going to promote project-oriented thinking on campus, and [it will] really help us problem solve more effectively," he said. "[Sometimes students] fail, go back, try another version, try the same problem, fail again, and on the third or fourth time they find success. It's that resilience [and] perseverance that [we] really want kids to master."