World History Students Discuss and Debate U.S. Policy After Syrian Bombing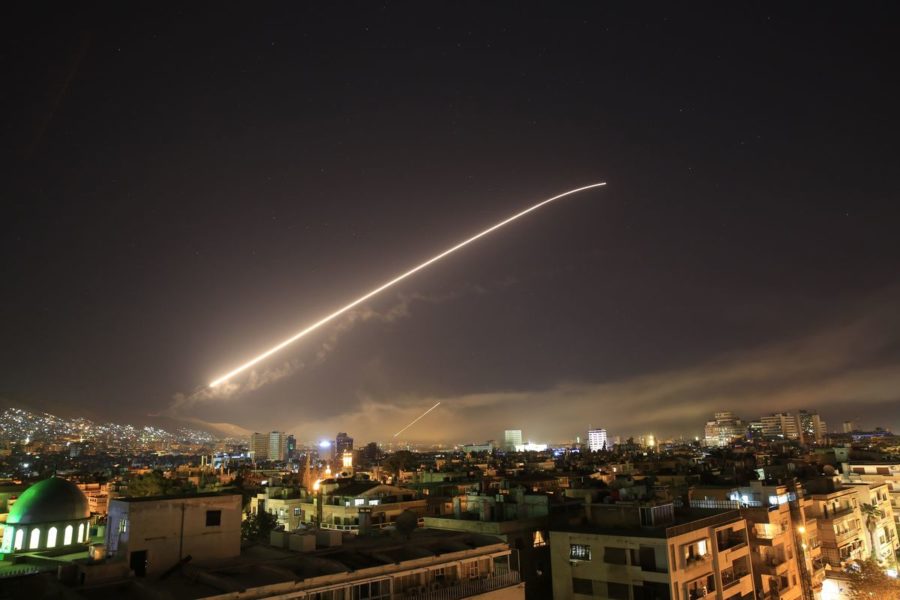 World History Students Discuss and Debate U.S. Policy After Syrian Bombing
Hang on for a minute...we're trying to find some more stories you might like.
For the past seven years, Syria, a country in the Middle East, has been at civil war. Before this, Syria was a thriving country full of rich history that encompassed Muslim, Greek, and Roman history and culture.  However, the once prosperous nation is know in utter decay. Syrian president Bashar al-Assad has allegedly been unleashing a fury of chemical weapons on his own people over the past year, killing 500.
The latest suspected attack occurred on April 8, 2018, killing 78 Syrians, including women and children. In response, President Donald Trump issued a bombing of the country's chemical facilities on April 13, including a research center, a storage facility, and an equipment facility and command post.
Chemical weapons have been banned by the Geneva convention since 1972. Members of the United Nations swore an oath to not tolerate any country that does not abide by the Geneva convention. The UN was formed after WWII to keep peace and maintain international order, and keep countries in check if one steps out of line. 
Syria's recent chemical attack has sparked conversations in students' eighth-grade history classes. "We are discussing this in history classes because I want my students to understand that this is a historically important area in the world," said eighth-grade history teacher Mrs. Anne Franzen. During the attack, eighth graders were studying the Muslim world, so the attack acted as a segue into the next topic about the Sunni and Shi'a Muslims. Eighth-grade history classes were able to dissect the reasoning behind these two groups' animosity towards one another.
These groups have been fighting for literally thousands of years. The Syrian Civil War was all because of a conflict that happened in 632 A.D. Muhammad was the founder is Islam, and Muslims think he is the last prophet of God. He started an empire that stretched to the Arabian Peninsula. When Muhammad died in 632 A.D, there are was a debate about who should succeed him. The Sunni believed that Abu Bakr should have succeeded him, as he was the most qualified caliph, or chief Muslim ruler. The Shi'a believed that Ali should have taken the throne because he was a descendant of Muhammad.
Today, eighty percent of Muslims in Syria are Sunni and fifteen percent are Shi'a. This conflict between Sunni and Shi'a is still ongoing, and, according to Franzen, it is so serious that even if a Sunni drops a package off to a Shi'a or vise versa, they will get arrested.
Eighth-grade classes learned the reason why the U.S. does not simply launch a full-out attack on Syria is due to the risk of possible civilian causality, as well as the possible cause of a large-scale war between other countries that are Syria's allies such as Russia and North Korea.  The classes also learned about the rich history that surrounds the country and why it is worth preserving. For example, there are ancient Greek artifacts, Roman buildings, and Jerusalem temples still standing in Syria, as well as the historic Euphrates River which helped civilizations like Mesopotamia survive.
"[Syria] is a historically important country – it is the cradle of civilization," said Franzen.  "It is where Mesopotamia was located, as well as early Sumer. It is also the home of three major religions."
The current president of Syria, al Assad, is a Sunni Muslim, and he's been accused of wanting to eradicate all of the Shi'a Muslims in his country. This has lead to him bombing the Shi'a with chemical weapons. The Shi'a try and leave dominant Sunni locations, but are not accepted into other countries because of the fear of terrorism and the possible strain on these countries' resources.
Russia and North Korea, however, have backed Syria with military support, yet they denied that Syria carried out a chemical attack on its own people. "We decidedly refute this information," said Major-General Yuri Yevtushenko according to a Reuters report published by the Huffington Post on April 9, 2018. "We hereby announce that we are ready to send Russian specialists in radiation, chemical and biological defense to collect information, as soon as Douma, [Syria] is freed from militants," said Yevtushenko. "This will confirm the trumped-up nature of these statements."
After discussing these events in world history class, eighth-grade students weighed in with their own opinions on the topic.
"I think the UN and Nato should attack Syria and do more than just bombing chemical facilities even if it means destroying historical items," said eighth grader Andrew McDonough. "Because this is a situation [that's] out of hand, and now that [Syria's leaders] are using chemical weapons on their own people, it is even more out of hand. I think even if we kill some innocent civilians, it is better than having more people die from the chemical weapon attacks. The president of Syria should be dead and Vladimir Putin should be condemned for helping the Syrian government," he said.
Fellow eighth grader Evan Lieberman takes a more conservative approach, but believes the UN still needs to stand up to Syria. "If Syria poses a big problem to the UN and specifically the rest of the world, a measure should be taken to ensure the safety of the world and Syrian civilians, even if that means bombing Syria."
Caden Quinn, another eighth grader, feels bombing Syria should be a last resort. "I think that Syria should be punished, but if there is a way to save the history, then I think a negotiation should try to happen. If all else fails, then bombing Syria is the only thing to stop the chemical warfare and the genocide going on. Something should be done to Russia for helping Syria because it is terrible."
The conflict between the Sunni and Shi'a muslims is a conflict that has been going on for hundreds of years, and has been growing more horrific. These recent attacks involving chemical warfare are truly disheartening due to the innocent civilians being slaughtered, as well as the rich history that is at risk of being lost.  However, the involvement of Russia and North Korea has made this atrocity even more difficult to end. Hopefully, the United States and the UN can stop the violence before it costs the lives of more innocent people.