Middle School Gets Involved in Lower School Olympics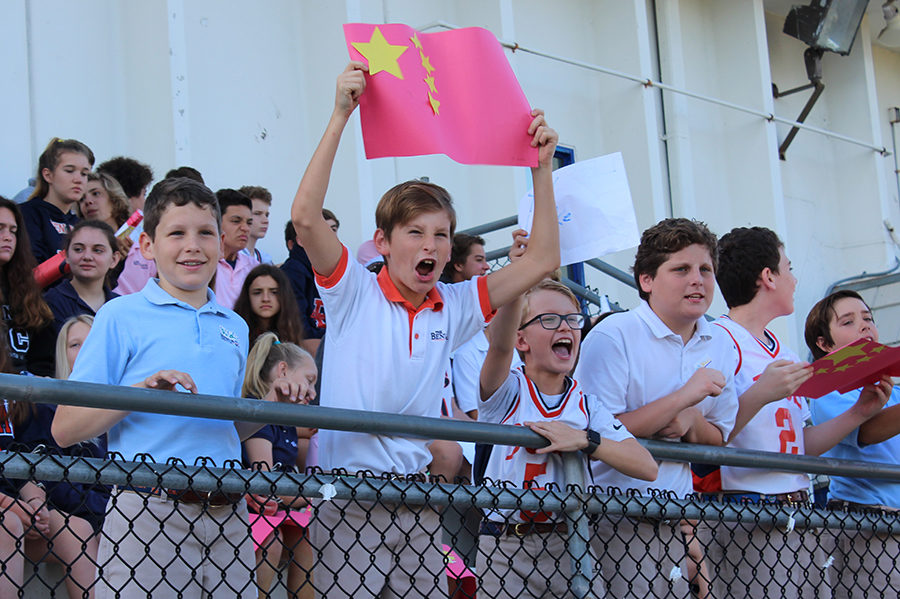 Although the Lower School Olympics are just that – a series of games for lower school students that has been an annual tradition for 28 years – the Middle School does get involved in certain facets of the day.
For starters, the Middle School Performance Ensemble played music during the Opening Ceremonies. "I felt like I was representing the school and having fun while doing so," said eighth grader Matthew Postman, who plays the tuba.
Eighth grader Catherine Schenk also sang the National Anthem to kick off the festivities. "The Olympics were by far the most fun  day in elementary school," said Schenk, "so it was a big honor to sing the National Anthem because everyone is so happy."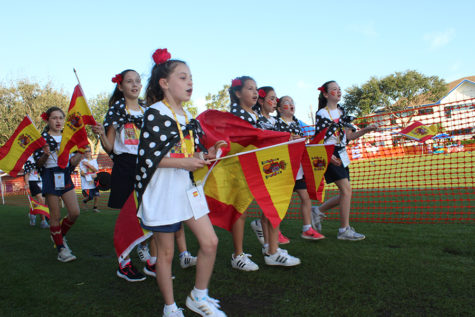 The middle school students also made signs to encourage lower school students through the advisory program. Middle school advisories were assigned classes for which to make signs to encourage the younger students who were  participating, "Since we are one campus, we want to support each other," said Student Services Counselor Ms. Danielle Benvenuto, who matched the middle school advisories with the lower school classrooms. "It builds a sense of community and allows middle schoolers to become awesome role models that the little kids look up to."It also lets the middle schoolers remember all the fun memories from when they participated."
The Olympics isn't all just fun and games, though. Each lower school class in grades one through five is assigned a country, which the students study and learn about, and then they create t-shirts and costumes in the tradition of  that particular country. For example, Mrs. McKinstry's fifth-grade class (5M), represented Mexico, so the students wore sombreros and carried maracas.
And the games are just like the real Olympics – each class (or country) competes against one another with points being awarded to the top finishers in each event – everything from a basketball-dribbling relay to a 100-yard dash to an ultimate frisbee competition.. There's even an official torch-lighting ceremony where two lucky students run up to the torch stand and pull down a lever to"light it," causing an iridescent orange "flame" (actually painted cardboard) to pop up.
Most middle school students have participated several times, some even participating five times since first grade. Some middle school students who once did the Olympics in lower school explain that it was one of their favorite events, "I was in the Lower School Olympics for two years. "I really enjoyed the level of competition from my peers and the vibe of the event. While it's a memorable event for students and teachers, the preparation is a lot of work.
"It took lots of planning," said Ms. Jackie Filia, one of the lower school physical education instructors who helps organize the Olympics along with fellow PE instructor Mr. Riordan Cheatham. "It took months to organize and plan, but it's worth it on that day to see how happy the kids are."
It definitely pays off. A day that's full of smiles, games, and competition is not only fun for the students, but also helps build character by encouraging good sportsmanship. "Kids have to learn about winning and losing," said Filia. "It's a good chance to do it because it's such a fun day anyway. Just the spirit of the day makes everyone a good sport."