Dinh Does It
Sixth grader takes home middle school spelling bee crown.
She stood on the stage, solitary, alone, looking out at the darkened BPAC. Everyone was silent, but she could hear the constant, drumming thud of her heart beating within her chest. As she approached the microphone, she took a deep breath and looked up. The stage lights made her squint, and she could feel their intense heat burning her forehead and cheeks. She felt like she would melt. She waited for the word…
"Mullet."
"M-U-L-L-E-T."
"That is correct," said English Department Chair Mrs. Kathleen Devine, the spelling bee's official pronouncer. "If you spell this next word correctly, you will be the middle school champion. "Battlement."
"B-A-T-T-L-E-M-E-N-T-."
"That is correct – you are our winner!"
And with that, sixth grader Claire Dinh won The Benjamin Middle School Spelling Bee on January 18.
"I was really nervous once it was down to three spellers," said Dinh. "I was the youngest of the three, and thought I was going to be the one to crack and mess up."
Claire was joined in the final rounds by seventh graders Alexander Fleming Lake and Kiran Spencer. The three of them went toe to toe for eighth rounds before Fleming-Lake stumbled over "coquelicot" – a type of poppy, and then one round later, Spencer, the runner-up, misspelled "bracken" – a type of fern.
Although both boys were disappointed, they were happy for Dinh and felt they prepared well.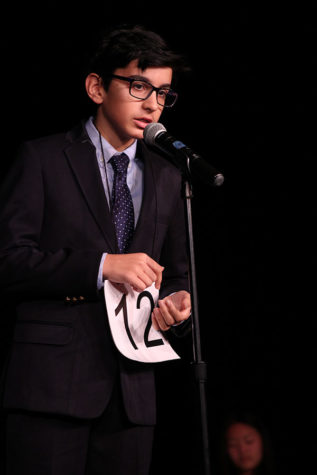 "I wrote all of the words I didn't know three times on flash cars and studied them during gym while playing matt ball," said Fleming Lake. Spencer, on the other hand, said, "I just studied off the list and took the quizes off the official [Scripps National Spelling Bee] link so I was very prepared and very confident."
There is one upside to not winning, though. "I'm glad I don't have to study anymore," said Spencer.
Dinh's studying, however, is not over, and she also worked hard in studying for the school bee. "When I got the list in my English class, I highlighted some of the words I didn't know and looked up the pronunciation for some of them," she said. "My uncle quizzed me on those words over break, and he helped me find ways to remember some of the words. For example, I remembered the word 'auspices' by thinking of the periodic table name for gold – "au" – and the word 'spices.' Writing down pronunciations in the margins also helped me, so when I went over them, I knew if I was saying and spelling it right."
The middle school bee started with 33 spellers drawn from the top two spellers in each English class during bees held the week of January 8.
Despite winning The Benjamin Lower School Spelling Bee last year as a fifth grader, Dinh didn't feel good about her chances in her first middle school competition. "I didn't think I had a good shot because there were seventh and eighth graders, and they might know more words and have more experience," said Dinh.
However, they didn't. One of the youngest spellers on stage won the school spelling bee. After winning the lower school bee last year, Dinh placed in the top 10 at the regional bee. This year, she hopes to do better.
"I am excited to see how far I'll get in regionals, said Dinh. "It would be really cool to go to D.C., [but] I don't think I have a very good chance to get into the National Spelling Bee."
She felt the same about the school bee, so who knows? TBS may have its second-ever speller to make the national finals. The last TBS student to do that was Dr. Kenneth "Andy" Larson '91, father of current junior Blake Larson '19. Dr. Larson made it to the national bee four consecutive years and, during his final year as an eighth grader, finished 41st out of 185 finalists.
Dinh, though, isn't getting ahead of herself. "In the back of my head, I'm kind of thinking about Washington, but I'm trying to stay focused on the regional bee right now."
The 2018 Final Regional Southeastern Florida Scripps Spelling Bee for Glades, Hendry, Okeechobee, and Palm Beach counties will be held February 12 in Benjamin Hall on the Upper School Campus.
View Comments (2)