Students Collect Flip Flops for Those Affected by Hurricane Irma
Helping strangers is a strong gesture of empathy. After Hurricane Irma, Key West looked like the definition of devastation with flooded streets, demolished houses, and abandoned pets. Seventh-grade science teacher Mrs. Stephanie Oster could not bear to see fellow Floridians in need.  So, during the month of September and October, she asked middle school students to bring in flip flops for those people that lost their shoes in the hurricane. Students were encouraged to  buy flip flops at stores like Walmart and Target that sell the footwear for affordable prices, then bring them to  school so they could be donated.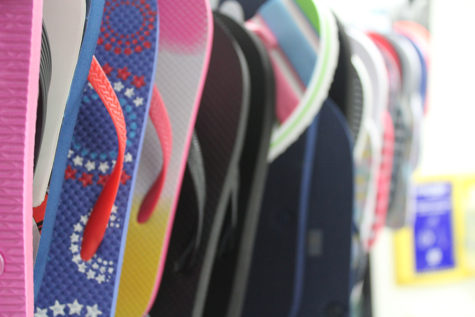 "I think that the flip flop drive was a fast and furious way to do something nice for people that are in need and it was nice just to be kind," said Oster. "There were no rewards, no big grand prize, and it was just if you wanted to help some people out and just be nice. It was the perfect opportunity to be kind just to be kind," she said.
Students at the Benjamin School helped out in a big way as  well over 200 flip flops were donated. This display of empathy shows that the Benjamin School is willing to help out anyone in  needs. Empathy for people one does not know is a characteristic the School has put into practice time and again  over the years, whether it's collecting food for the homeless, bringing in new toys for underprivileged children, or preparing and serving food for families in need.
"I love that we can advocate for other Floridians," said seventh grader Angelina Calvo-Ayers. "It really shows the Benjamin School characteristics. I hope we can do more things like this in the future," she said. Calvo-Ayers is referring to the characteristic of being compassionate. Compassion comes from the Latin root that mean "to suffer with." This means to help out others in need.
However, she is not the only one that loves the idea of helping others.  "I love how we, as a family, can help people in need," said sixth grader Sam Storch. "Just imagine what they are going through, they would have done the same for us."
Empathy is a huge characteristic at the Benjamin School because it shows selflessness and a willingness to help others. Benjamin is no stranger to helping those in need, with the flip flop drive being the latest example.
Leave a Comment