Mr. Carr Featured Speaker at Honor Code Assembly
A little honesty can make a big difference. Whether it is cheating on a test or lying about getting tagged in physical education class, one can lose friends or make a bad reputation for oneself if one is not honest. "I will not lie, cheat, steal, nor tolerate anyone who does" is one of the two pledges of honor at The Benjamin School. "I have neither given nor received unauthorized aid on this work" is what all students must write on their papers before handing them in, whether it's a quiz, test, or homework. Other schools may have consequences for plagiarism and/ or cheating, but The Benjamin School maintains an Honor Code so students know what is expected of them right off the bat.
The Benjamin School Honor Code is such an integral part of the school culture, that an Honor Code Assembly is held at the beginning of each year in which all middle school students participate. At the assembly, students sign their names in a book, promising to be honorable in all that they do. This year's ceremony took place in the Barker Performing Arts Center on October 5, 2017.
"An honor code at any school, particularly ours, is the foundation which we all function [under] in our community," Head of Middle School Mr. Charles Hagy said. "We have to be honorable. When you think about honor, it's not just honesty in your work. It's honorable behavior, and the way you interact with others. It's being honorable to your campus, [and] it's treating everything with that approach of honor."
Hagy, with the help of the faculty, chooses a teacher or two each year to talk to the students about honor. The speaker chosen this year was Head of the Upper School Mr. Fletcher Carr.
"He is an incredible educator, and [he] is doing a great job at the Upper School," said Hagy. "He has a long history of excellence as a teacher. He has done research and work at the collegiate level that is very impressive," he said..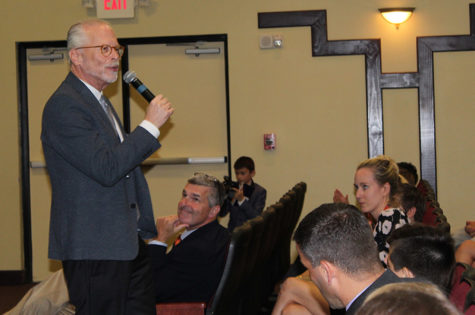 Before Carr spoke, Head of School Mr. Robert Goldberg addressed the students, an encouraging sign as Goldberg has seldom been seen recently due to his battle with pancreatic cancer. Goldberg lauded the students for their concern and sympathy. Many middle schoolers approached him prior to the ceremony to greet him and ask him about his well being. At the end of the assembly, eighth grader and Student Council President Camilo Saiz stood and told Mr. Goldberg, "On behalf of the middle school students, we just want you to know how much we love you and respect you, and we hope you are feeling better." It was a touching and spontaneous moment during what is usually a meticulously planned, deliberate ceremony.
"I think it was very nice and kind of [Mr. Goldberg to make an appearance] because he is in a dark time, and he was trying to be with his family [because] he was sick, and he still decided to show up," said seventh grader Luke Casper. "That shows how loving he is to the Middle School and everybody in the School, and he loves us all."
Unlike the past years, Carr did not tell a personal story in his address to the students. His comments were a "bit more general in nature and more focused on the concept of an honor code and why such codes exist," Carr responded in an email after the event.
However, Carr spoke of the importance of having an honor code in that it holds students to a high standard. "For students, honor codes offer a way to develop ethically and morally as students and citizens of a community," Carr wrote in his email. "The requirements of the code provide a measuring stick against which students can measure their progress and development in following a set of community standards."
Carr, in only his second year leading the Upper School, tried to communicate to students that the Honor Code is not in place to punish students, but to help them reach their goals honestly and with integrity. "I hope that the biggest takeaway from the talk was that students might see more clearly the reasons that schools have honor codes, and that such codes are not meant to be punitive, but rather, a way to allow students to develop more freely into the very best possible versions of themselves," he said.
His words seemed to have the desired effect. "Mr. Carr opened up my thoughts about the Honor Code," said seventh grader Nico Frezin. "Before this presentation, I believed that the Honor Code was just another rule, but after this, I thought of it as a code that makes us who we are."
Other students understand that the Honor Code goes beyond being a student at TBS. "In life, [the Honor Code is] always going to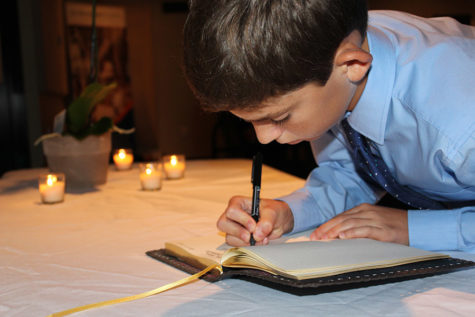 help you to be kind and have integrity because you'll have more friends and a better reputation," said Casper.
"Because when we have jobs [later on in life], Benjamin will have given us that support so we know the difference from right and wrong," added sixth grader Arthur Wolff.  "We will know not to lie, not to cheat, and not to steal."
"When people see our uniforms, they think of smart and intelligent people," added Frezin. "This school is very highly thought of, and an honor code is something that keeps all of us in check with the rules that we follow."
Rules that don't just apply to school, but to life beyond the walls and halls of TBS.
Leave a Comment