Middle School Hosts Second Annual TEDx Event
The stage was dark, and the lights flooding down made the audience invisible – a sea of black. However, he knew they were there. Dozens of eyes stared at him as he began to speak, delivering the talk he had rehearsed countless times. The teleprompter was there as a guide, but he barely needed it. One word flowed to the next and then the sentences were suddenly familiar, pouring forth as he paused to make each point. When he finished, the audience clapped loud and long. He smiled, satisfied, and made his way off the stage.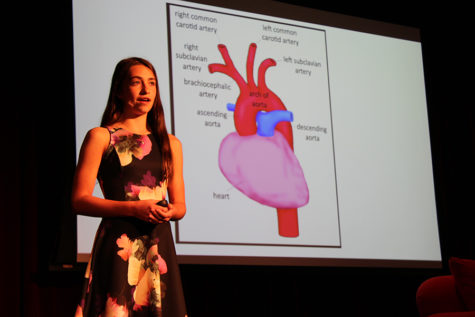 Such was the experience for 26 middle school students on Friday, March 24 as they participated in the Middle School's second annual TEDx event.
TED, which stands for "technology, entertainment, and design," is a set of conferences from all over the world run by the private non-profit Sapling Foundation. TED's slogan is "ideas worth spreading," and features speakers whose topics range from technology and science to culture and education. The videos, which are usually limited to 15 minutes in length, are available for free at www.ted.com.
TEDx, on the other hand, are independent TED-like events that can be organized by anyone who obtains a free license from TED and agrees to follow certain stipulations (i.e. creating unique marketing for the event by incorporating the TED brand, filming the event, etc.). Benjamin held its TEDxTheBenjaminSchool event in the Barker Performing Arts Center, and, for the second consecutive year, it was spearheaded by Academic Dean Dr. Tina James and English Department Chair Mrs. Kathleen Devine.
Having been through the process twice now, James felt this year's event went much more smoothly.] "I mean, we learned so much more [this year]," said James. "We publicized it better [and] we were able to cultivate our adult guest speakers far more intensely. We also knew more how to evince the soul stories out of our students this year than last year."
Another thing The Benjamin School improved upon this time around was getting the word out to the community using social media." We cultivated a pretty big Facebook following," said James. "Considering I have never really done it before, we got to about 323 followers. And I have been learning how to use Twitter, and I have certainly reached out to a lot of people who seemed interested in the talks. I don't think we'll really know the answer [as to whether] the social media played a big part until the videos of the talks come out because then we will see if they start to be shared and reshared."
This year's theme was "Muthos," which is a Greek word that means public authoritative speaking that has the power to effect change. That was the hope of Benjamin's administration – that the adult and student speakers would deliver talks that would make those in the audience think differently about a topic or be provided with a new perspective.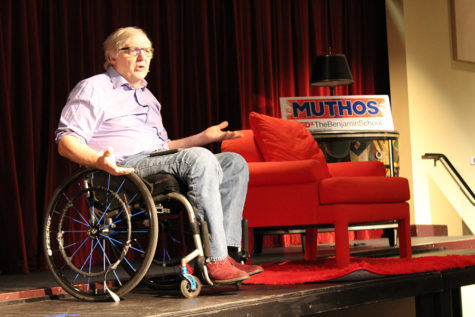 James recruited some heavy hitters to do just that. The guest speakers this year were impressive – from subjects of a documentary film (aerialist Tine Reine) to Emmy Award winners (John and Alison Hockenberry). Other guest speakers included Steven Caras, a professional photographer and ballet dancer who studied with the legendary George Balanchine, international best-selling author Ashley C. Harris, Hawn Foundation's MindUp CEO Laurie Coots, and filmmaker Cynthia Lowen whose 2011 documentary, Bully, has been seen by millions of viewers and was even screened at the White House.
"I loved our guest speakers last year," said James, "but this year we picked a collection of people talking about different things, and this year we got lucky with some of the very famous people we were able to procure."
However, the student speakers were the real stars of the show. Many of them bared their souls and talked about the challenges of their own physical impairments or real-world issues like the overpaying of professional athletes and the fragility of our ecosystem.
matter how long they practiced, nothing was able to prepare the students for the actual event which was filmed live and then uploaded to the TEDx YouTube channel.
"It was very nerve wracking at first, but once I got up there, the butterflies went away," said seventh grader Joey Palomba, who used former NFL quarterback Tony Romo as an example in his talk about teamwork and leadership. "The most rewarding part was the fact that now I know how to speak in front of people, so next time I do it, it won't be as scary."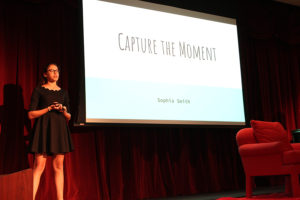 For other students, they enjoyed the fact that their message was able to reach a wide audience. " It was the feeling of being able to spread my message to the community, and how after I spread it, I felt a sense of relief and happiness," said seventh grader Liam Gaeta whose talk was about grit and perseverance.
Hopefully, the "muthos" each speaker provided made those in attendance, and the global audience who will see the videos once TED publishes them, pause and think a bit more deeply about the topics presented and the world in which we live. It's wonderful that The Benjamin School provides such opportunities for their middle school students and allows their "ideas worth spreading" to be shared with the world.
View Comments (1)