Grandest Friends Day is Successful Once Again
One of Benjamin's most adored traditions by students and faculty is Grandest Friends Day. Starting in WOW, this is a day when students can bring their grandparents or other special friends to school. The event was designed to give family members of students a chance to see what goes on in the average school year and what their child or relative is learning at the Benjamin School. The Head of the Middle School, Mr. Charles Hagy, loves the tradition. "It is important that both students and their families celebrate the hard work put into each school day," comments Hagy.
The Grandest Friends Day celebrations this year happened over one week. The middle school's day was almost postponed due to Hurricane Nicole, but the storm had already passed through the area by Friday. However, fourth and fifth graders had their's moved to Monday the fourteenth.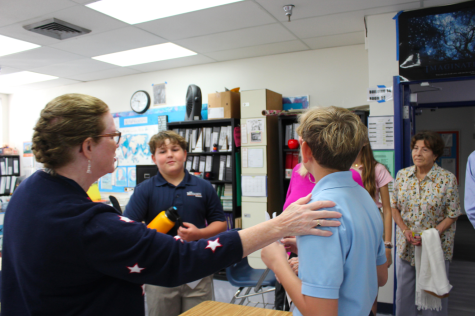 Middle Schoolers, in particular, took their grandest friends on a trip around the school. Each student received a passport. These included the itinerary, the school's background info, and slots for stamps. As the students led their friends around campus, the teachers they visited would stamp the passports. Grouped by the first letter of their last name, every party saw every teacher within an hour.
Since the middle school had its grandest friends day on November 11, it coincided with the annual Veteran's Day ceremony. When the tour was over, all students and visitors were led into the gymnasium. In anticipation of this uncommon occurrence, organizers set up chairs in the center of the gym for guests, and the students sat in the bleachers by grade level.
In the Lower School, parents or guardians can fill out a form giving a student permission to leave school early with their special guest, but this is not an option for the Middle School. Seventh grader Andrea Arendts thinks that this rule should change. "I miss going home with my grandma after the event," she comments. "Grandest Friend's Day is only once a year, so it's not hard to miss just one day." After all the fun was over, students said goodbye to their grandest friends, concluding the event until the next school year.
View Comments(1)