Dangerous Destruction
Hurricane Ian Damages the West Coast of Florida and Cuba
Hurricane Ian devastated Cuba and Florida during its journey through the ocean. It is currently estimated that the hurricane could cause up to $75 billion worth of damage. As the fourth strongest recorded hurricane to hit Florida, the only known hurricanes to contest Ian's strength are The Labor Day Hurricane of 1935, Hurricane Andrew of 1992, and Hurricane Michael of 2018.
The hurricane first formed as Tropical Depression 9 north of South America. A tropical depression is a storm that has not reached 39 miles per hour. It gained strength from the warm water in the ocean until it reached the status of a powerful Category 3 hurricane. At this time, it was slated to hit Cuba. 
Hurricane Ian's landfall in Cuba caused a lot of damage. There was widespread power loss, and many homes still have not regained power. Twenty people were reported lost at sea, and there were three recorded fatalities. The storm hit Cuba particularly hard because of previous damage from when Hurricane Irma struck in 2017. Irma was the first Category 5 hurricane to hit Cuba since 1924 and destroyed many homes. The power grid was still in the process of being rebuilt when Ian caused mass destruction again. Cubans in Havana have protested the slow speed at which power was restored to their homes, causing strife in the country. 
Ian traveled through the ocean towards Florida, where it would next make landfall. Its path changed many times, so the hurricane was hard to predict. When it hit Florida, it started as a Category 4 and quickly decreased to
Category 3 after making landfall in the Naples-Fort Myers area. A significant storm surge, along with strong winds and rain, affected the area. Nineteen inches of storm surge affected Fort Myers. Islands, such as Pine Island and Sanibel, were nearly completely underwater. There were many injuries and fatalities from Hurricane Ian. 
The students at The Benjamin School have been tracking hurricanes for a few weeks. Throughout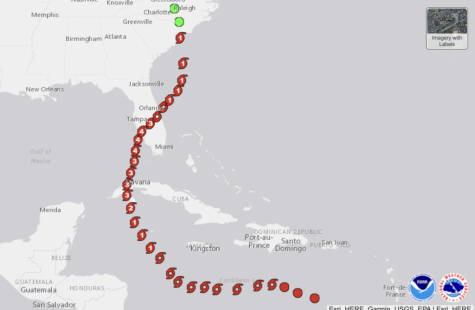 Hurricane Ian, seventh-grade science classes have plotted points, viewed the trajectory, and predicted future paths. The National Hurricane Center's website has proved to be a useful tool in school. New seventh-grade science teacher, Ms. Jenna LoDico, comments on the importance of tracking hurricanes. "I love the fact that this [hurricane studies] is part of our curriculum here because we live in Florida and we are prone to the damage and destruction of hurricanes," says LoDico. "If we can create students that are better informed about what to do, and how to follow evacuation orders, storm watches, and warnings, I think it's just gonna make for better, more prepared people and citizens in Florida."
While the Palm Beach area was merely affected by tropical storm-level winds, the Benjamin School recognizes that other parts of the state were not so lucky. Many relief efforts have been set up for the people on the southwest coast of Florida. FPL (Florida Power and Light)  has been very present in these projects. A drive will be held to collect items for those impacted by Hurricane Ian. Head of the Benjamin School, Dr. David Faus, comments on the matter. "We will support an agency that has an office here in Palm Beach called Feeding South Florida," he says. "We'll work on all three divisions, [Lower, Middle, and Upper School,] trying to support this nonprofit organization that's going to get food, clothing, and basic necessities into the most damaged areas over in [southwest Florida]. We like that we can physically bring [supplies] to them here in Palm Beach County, and they have trucks going a couple of times a day into the southest part of Florida, Naples, Fort Myers, Pine Island."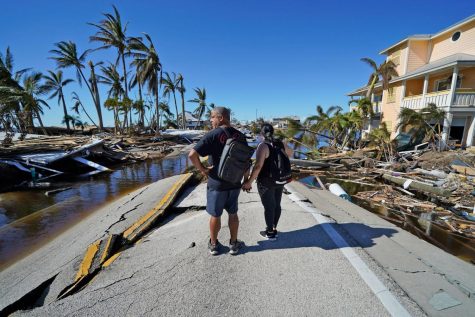 This drive will possibly be a hands-on experience for students. "I think there's also a possibility that we can physically take some kids over there to help where help is needed," Faus adds. "We could go over and help distribute food, help serve food, or help clean up. It'd probably be on the weekend. It would probably mean getting up early and we'd have a bus and drive over and spend the day and then turn around and drive back that night. Those details are details to come; still working on it." 
The final death toll is 123 people, and many are still missing. Now that Hurricane Ian has dissipated, Florida and Cuba can begin to recover. 
Leave a Comment