Remembering 9/11 Benjamin Alumni
   Many Americans watched the horror 21 years ago of the terrorist attacks of September 11, 2001. The majority of people can recite precisely where they were and what they felt on that terrifying day. As Americans, it is our responsibility to remember those who died in New York City, Washington D.C, and Shanksville, Pennsylvania. Therefore, as Buccaneers, it is our job to remember Lindsay Morehouse and Patrick Aranyos, the two Benjamin Alumni who sadly perished in the World Trade Center on 9/11/01.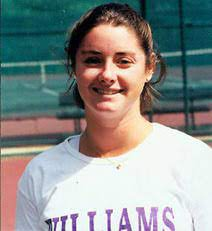 Lindsay Morehouse attended The Benjamin School for four years and graduated in 94'. Morehouse was an excellent student as well as an astonishing athlete, as a member of both the varsity tennis and soccer teams. Morehouse then became the co-captain of the women's tennis team at Williams College in Northeastern Massachusetts. After college, Lindsay became an equity research assistant for Keffe Bruyette and Woods, an investment banking firm headquartered in New York City. Lindsay was only 24 years old and had only lived in the big apple for about five months before her tragic death. Even though Lindsay is gone, she is certainly not forgotten–her tennis racket is now on display at the 9/11 Memorial Museum in Manhattan, and the tennis court at the Upper Schools is dedicated in her name. Lindsay was cherished by so many people: a beloved daughter, a caring friend, a businesswoman, and an extraordinary athlete. 

Patrick Aranyos attended The Benjamin School and graduated in 93'. Just like Morehouse, Aranyos was an exceptional student. After graduating from Benjamin, Aranyos went on to Boston College, where he graduated with a B.S in Finance and Marketing. Following Patrick's academic success, Aranyos became a bond broker for Euro Brokers, a capital marketing company in New York City. Patrick was only 26 years old before his death.
On September 9, 2022, Middle School students had the opportunity to learn about 9/11 and the two alums via slideshow. Students were able to understand better who Morehouse and Araynos were as people and how their death affected the Benjamin community as a whole. "The days following 9/11 were rough for the students," said Nancy Mcallister, Middle School art teacher. "It was hard, especially for the eighth-grade students in my class that day. But Benjamin came together as a school to show support and strength to one another during those times." 
Leave a Comment