BENx Talks Allow Students to Share Their Passions with Their Peers
Everyone knows what a TED Talk is, but do you know what a BENx Talk is? Benjamin conducted its own version of a TED talk for the seventh graders during the fourth quarter; an experience to talk about one's way of life.  It has universal themes that everyone can learn from.These talks were given in the library with Library Media Specialist Mrs. Danielle Griffis under the guidance of seventh-grade English teacher Mr. Nathan Ginnetty.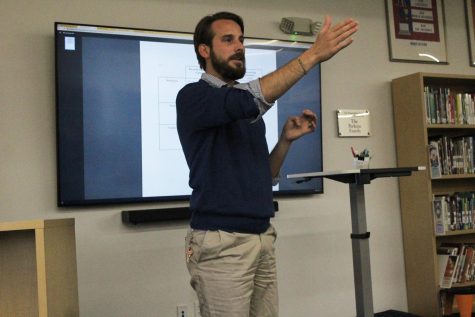 BENx Talks allow the speakers to express their passion to their classmates.
"The BENx Talks are interesting because they come from the heart of each student," said Ginnetty, who helped  his students create and refine their talks. 
Ginnetty enjoys the project because it affords students a lot of freedom to explore their interests.
"This course activity affords students the opportunity to explore virtually any 'idea' they feel is 'worth spreading," he said. "As a writing coach, I am especially interested in the development of the talks from the 'heart mapping' stage to the final draft. More often than not, students' talks develop even more intriguing insights over the course of the writing process," said Ginnetty. 
Writing is a big part of not only English class, but other classes as well. The Benx talks help students practice this skill and take it a step further in turning it into a public speech.
There were a variety of talks in each class, as different as the individual students who wrote them.
"I think it was interesting because most of the talks were different," said seventh grader Maverick Mackenzie. "One person was talking about gaming and another talked about sports. I think the cool thing was the diversity on how people did something opposite of each other, and it was relevant to our lives," he said.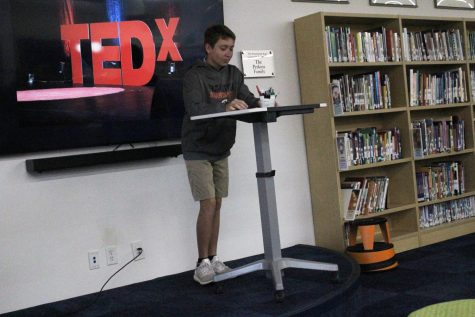 The BENx talks were meaningful to the students by providing a window into each other's passions. 
"I thought it was interesting to hear what everyone thought was important to them," said seventh grader Phoebe Apple. "Some were in common with others. I liked how a student talked about computers and how we have to accept that they are going to be a part of our future," she said. 
This was a great class activity that provided lots of information about the seventh grade class topics. It is safe to say that these talks brought everyone in seventh grade a little closer by learning about one another.
Leave a Comment