Middle School Rolls Out New Format for Grandest Friend's Day
TBS believes in lifelong learning, which is why it invites grandparents, relatives, and friends to learn about the School during its annual Grandest Friend's Day (GFD). Last year, however, there was no GFD due to COVID-19.  Things got back on schedule this year as the Middle School hosted its GFD on April 1. 
Grandest Friend's Day is a TBS tradition where students invite their grandparents and/or relatives and family friends to spend time with them on campus, make memories, and learn about TBS tradition where students invite their grandparents and/or relatives and family friends to spend time with them.
Coordinator of Academic Affairs Mr. Nicholas Crisafi helped put this year's program together. 
"I helped plan the order of events, created the program, produced the TBS News broadcast with the help of my students, made sure we had the proper technology in place in the gym, and coached the six students who asked the audience the trivia questions at each session," said Crisafi, who headed up the event for the first time. "Of course, I had some help from Mrs. Oster, Mrs. Hook, Mrs. Simovith, and Mrs. Youngman, so it was a team effort," he said.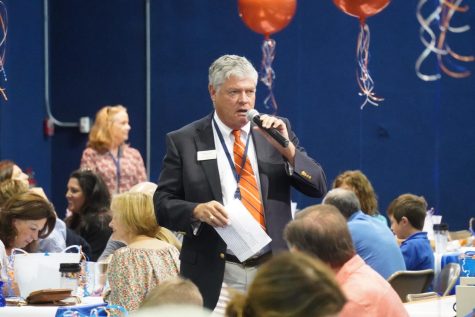 After Head of Middle School Mr. Charles Hagy welcomed students and their guests in the gym, a brief video of the middle school dance team, The Sparklers, was shown, and that was followed by a TBS News broadcast. The broadcast covered a tour of the Middle School as well as information about the academics, athletics, and the arts. Head of School Mr. David Faus then addressed those in attendance and then students led everyone in some TBS trivia. Students and their guests also had the opportunity to color artwork and place it inside a complimentary tumbler for their grandest friends. 
GFD is special because of the time students get to spend with their guests. 
"I got to see my grandparents who I do not see very often," said sixth grader Jack Baker. "There were a lot of exciting parts to [Grandest Friends Day]," he said. "We hung out and talked." 
"My favorite memory is playing board games for hours during my time with them," said eighth grader Carter Burden. 
There was a lot of anticipation leading up to this year's GFD.
"I am excited for Grandest Friends Day because we haven't had it in two years, and I'm excited to show my grandest friend my school, and everything about it," said eighth grader Isabella Blount.
For some students, this year ended up being more special than others. 
"The memory of [my grandparents] being there was special for me," said sixth grader Taylor McCorkle, whose grandparents flew all the way from California just to spend time with him and his brother, seventh-grader Aidan McCorkle. "It has been two years since we saw each other because of the pandemic," he said.
Leave a Comment