6th Graders Take a Trip to Saint Augustine
The oldest city in the United States, St. Augustine, is located in the northeast part of Florida. This past Friday, the 6th grade class of TBS was lucky enough to visit and learn about Spanish colonists and how they lived. They took a bus up early Friday morning and returned late Friday night after learning and experiencing the history of St. Augustine.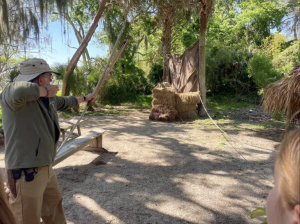 Throughout their trip, students visited various museums and historical sites. "I learned that the Spanish thought of little things ahead of time that helped them win wars. This would help me by reminding me to think ahead. [It also] expanded my learning by teaching me what it was like in the colonies," said sixth grader John Collins. It was important for students to take what they learned from their trip and use that in their life today.
Students visited a museum dedicated to pirate items that have been found. Students saw ships, coins, swords, cannons, and so much more that they loved seeing and learning about. "My favorite part of the trip is the pirate museum we saw! I experienced many new things and their wonderful adventures," said Maria Golucki. 
Learning in a classroom was very important for the students, but it was also crucial for students to leave the classroom and experience what they learned outside of the room. "Just seeing how excited students get about the things we are seeing, whether it is a cannon being fired or the description of a ghost story in the cemetery.  There are certain things that can only be experienced off-campus at a historic site," said Head of Middle School Charles Hagy.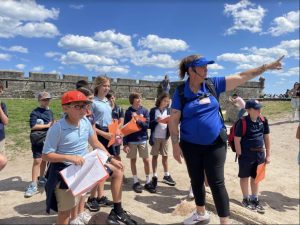 Before visiting St.Augustine, students did not realize how different their way of life is from those in the past. "This was a good learning trip because it helped us realize how much life has changed," says Collins. It was important to have a different outlook on the way we live today and to learn about our past to understand how we have developed as a country.
Before visiting St.Augustine, it was vital that students were prepared with what they were going to see so that they were educated on what they had learned about."Teachers prepared by grouping the students, reviewing the itinerary for the day, and troubleshooting any potential issues that could come up during the day," says Sarah Oster. Not every potential problem can be predicted. The girl's bus had a flat tire on the way back and postponed their arrival back at the school by about two hours. 
Despite the late setback, students and faculty had a great time visiting the amazing city of St.Augustine and learned lots about our country's history.
Leave a Comment