The First Pep Rally Post Quarantine
It's time to get loud! On October 1, the Middle School held a pep rally for the in the gym. This was the first pep rally in two years since COVID hit and the excitement was real as it was the first one experienced by the sixth and seventh graders. 
As the pep rally started, Dean of Students Mr. Jeff Cavallo gave a bombastic speech, echoing the great start the students are off to this year in terms of their behavior and spirit, and inspiring all of the students to begin shouting passionately. Many more of these fabulously formed speeches came throughout the pep rally.
"I thought Mr. Cavallo's speeches were really good and nice just because of their overall content, " said eighth grader Bella Blount.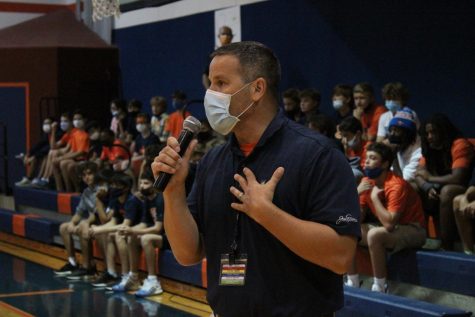 With the middle school roaring, the Sparklers, the division's dance team, took to the court to perform "BOOM" by X Ambassadors. Their routine included some jaw-dropping moves, including sixth grader Haven Stein doing a backflip and the whole team doing a kick line to end the show.
"I really enjoyed the Sparkler's because they had a wide variation of different dance moves such as the can-can altogether, and I saw every single one of them dancing their hearts out," says eighth grader Ishe Makoni.
Mr. Ginnetty and Mr. DeVries, playing an acoustic and electric guitar, respectively, played the intro. to Metallica's "Enter Sandman" before breaking into "Take me Home, Country Roads" by John Denver. With a wave of swaying arms, the Middle School started to sing along in sync with Mr. Ginnetty. "I thought it was really interesting when Mr. DeVries and Mr. Ginnetty played," said Blount. "It was cool to see their skills outside of academics, and it was fun to sing all together."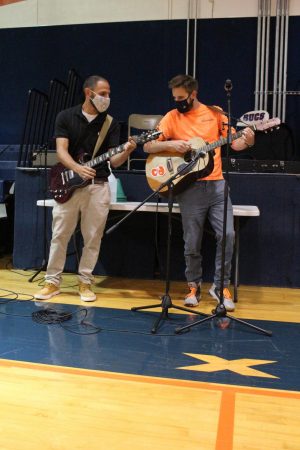 Last but not least, there was a classic TGIF (Thank Goodness It's Friday) competition led by Mr. Ron Ream, the retired math teacher and varsity football coach who used to lead the traditional event at upper school pep rallies. The main goal is for the two groups – in this case, it was the boys vs. the girls – to shout "TGIF" as loud as they can. The judges – Mr. Cavallo, Mrs. Oster, and Mr. Bayless – ultimately announced that the boys were the victors.
"It was fun, especially because they had screaming competitions," said eighth grader James Tepper.
The pep rally was a fun school event that got the entire middle school pumped up for the upcoming spirit events throughout the year. Lots of people were excited for the pep rally and it did not disappoint. In the end, both the students and the faculty had a blast and enjoyed the event with great Buccaneer pride.
Leave a Comment