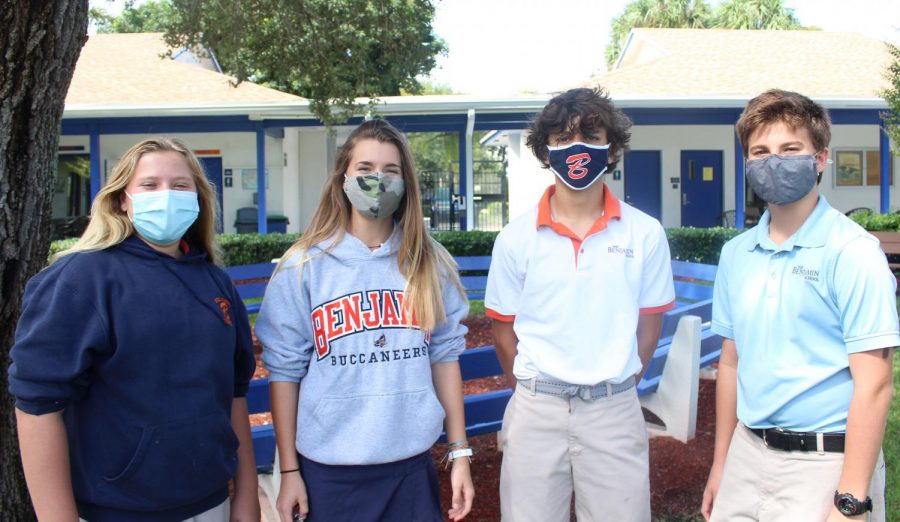 Jonathan VIdal
The United States presidential election is not the only election taking place this fall. The Middle School's annual student council elections took place on October 12, with every student and teacher in the division voting for six candidates to fill four positions: president, vice president, secretary, and treasurer. 
The candidates who ran for president were eighth graders Ella Bailey, Chester Coles, Scott Noble, and Rachel Haueisen. The candidates who were eligible for Vice President were sixth graders Rita Janin and Ava Shawe. 
As a result of the voting, all four eighth graders were elected to office. However, according to Student Council Advisors Mrs. Anne Franzen and Mr. Nathan Ginnetty, the sixth graders did an outstanding job and should be lauded for their efforts. 
"I'm especially proud of the two sixth graders who ran, Ava Shawe and Rita Janin," said Franzen. "It takes a lot of courage to run against eighth graders," she said. 
After the elections, the Student Council members voted to see which eighth graders would hold each position. Noble received the most votes, so he was designated president. Bailey was named vice president, Coles was appointed treasurer, and Haueisen was awarded secretary. 
For Noble, being named president was a surprise. 
"My computer had disconnected [from the WiFi] the day after the election, so I went to tell Mrs. Franzen, and that's when she told me that I was president, and then a friend of mine came running in to tell me, too, because Mrs. Franzen had just sent out the email," said Noble.
"My first thought was, 'Wow, I can't believe that I am president,' and I think that I can lead the school to help the student body." 
As far as Noble's goals for the year, he's focusing on helping students get their homework done.
"I hope to bring back ABC because it is more time to connect with your advisory and at the end of the day, you already know all of your homework, so you can plan ahead and get organized."
Bailey was also not expecting to become an officer, but she's glad she is.
"I was very surprised that I was elected for vice president, [but] I find my position as a privilege to serve the student body," she said. "I would like to make the world a better place and help in any way I can."
Coles is looking forward to serving his fellow students. 
"I have been in the Student Council since fourth grade," he said. "I have decided to continue with it because I think being a voice for the people is important. I am extremely happy [to be] treasurer of Student Council. I think that this year it is important for us to look at the coronavirus not as a setback, but as an opportunity. I think that we can make this year one of the best possible, and I hope to help the student body make this a reality in any way," he said.
Even with all of the constraints and safety measures that are in place because of the coronavirus, the new officers are eager to do their best and stay positive. The members and the leaders of the student council intend to meaningfully connect with the student body, find out more about students' needs, and work hard to help fulfill them. As the president of the student council, Noble exclaimed, "Let's make it a great year!"