Kindness Door Encourages Students to Display Their Good Deeds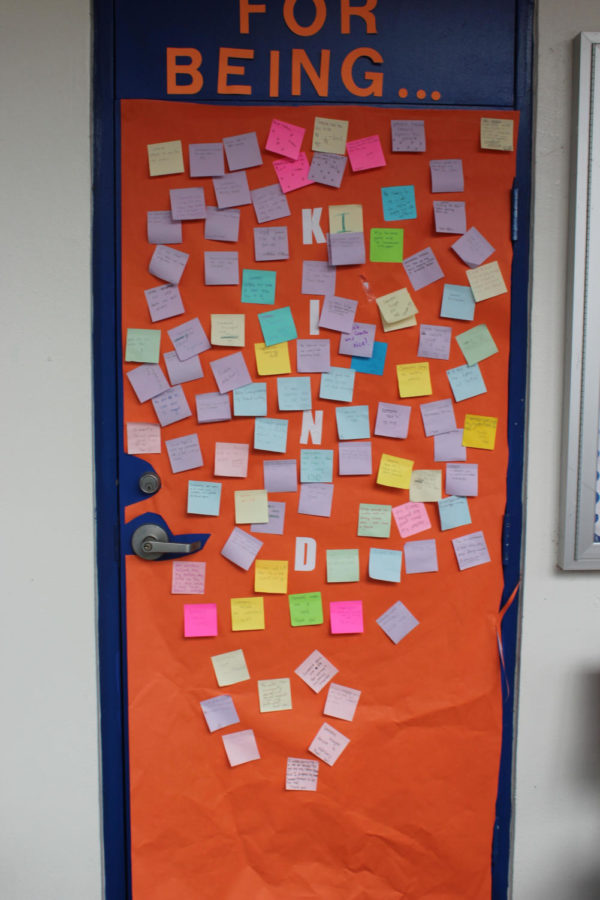 "Be kind, be kind, be kind" –  an important phrase that TBS Co-Founder Mrs. Nancy Benjamin wanted everyone to remember. For the most part, students do a good job of making sure to help one another. However, sometimes students find it hard to go out of their own way to be kind. So in order to encourage compassion and good will, a "kindness door" was created. 
The idea came from a video sent to Student Services Counselor Ms. Danielle Benvenuto. "Mrs. Oster gets these kindness videos, and she sent one to me and thought it was something we could do," said Benvenuto. The video shows a student helping another student who then asks a teacher a good way to recognize the act of kindness. They create a wall with the word KIND written on it and put up Post-It notes for each act of kindness carried out by the students in the school. The acts of kindness catch on and, eventually, the entire school has filled the wall with notes. The Middle School has done something similar with the door outside of the BucCafe.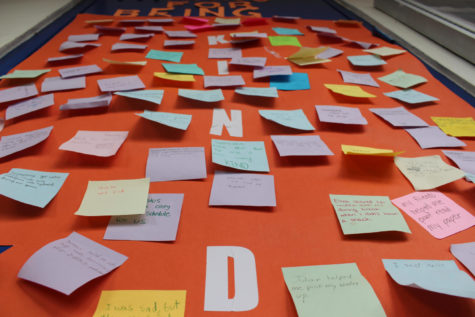 The door works as follows: each morning in advisory, students are given the opportunity to write down something kind that someone has done for them on a sticky note, without mentioning names, and then they stick it onto the kindness door. Some of the notes posted describe kind gestures or good deeds, such as helping someone who dropped their stuff on the floor or giving someone a compliment. The notes will continue to be added to the door through the end of the first semester. The hope is that it will push students out of their comfort zone in order to help others.
"It will motivate people to be more aware of the kind things going on by featuring the students' kind actions," said Benvenuto.
Some students seem to agree.
"I think it was a good idea because when kids see the kind things people have done, they will be  motivated to do kind things too," said seventh grader Samantha Hill. "Our advisor had us write down kind things on a sticky note and then put them on the door." 
"They might not have needed the door but it definitely motivated kids to be nicer," said sixth grader Mathew Pollock. "I think they should do the door again next year."
Still, some students think that the door might not help as much as everyone thinks. 
"I don't think it will help, it's just a posted note," said sixth grader Treasure Stein. "It might be better to keep actions to yourself."
"Blue and orange slips kind of serve the same purpose," said fellow sixth grader Olivia Lenard, referencing the slips of paper students receive from teachers for doing something that reflects one of the 12 Benjamin Values. Those orange or blue slips are then added as points to the Blue/Orange teams which compete throughout the year, culminating on Field Day in the spring.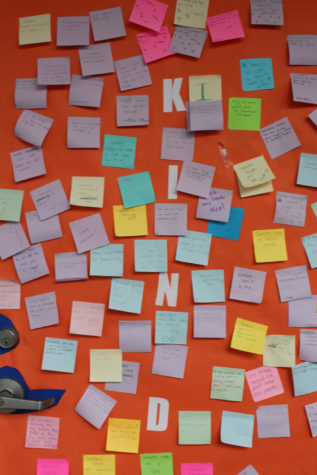 However, Benvenuto believes the  door is serving its purpose. 
"Everyday it seems like new things are popping up," said Benvenuto. "It's kind of a reminder that there are kind people out there every day."