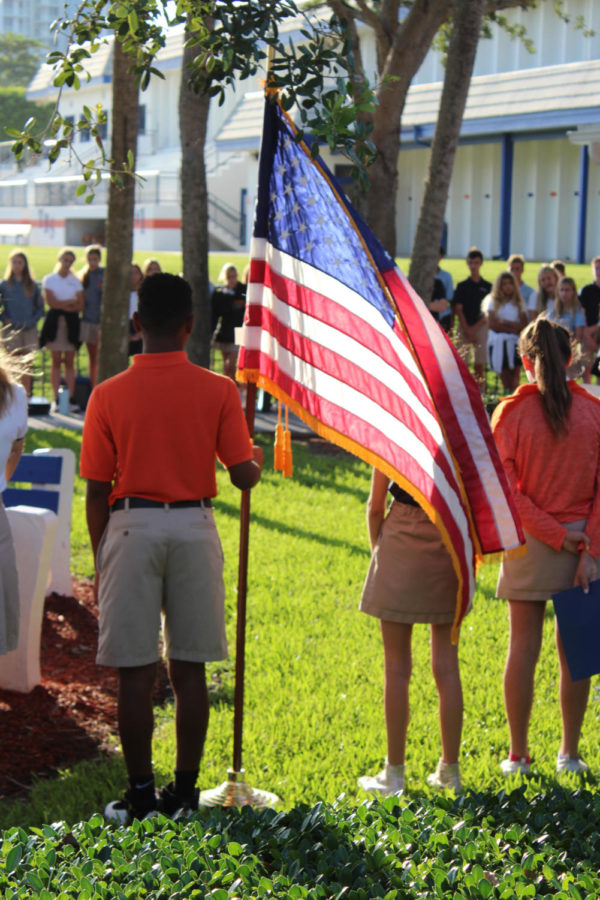 Chase Malamala
BOOM! The deafening explosion echoes throughout the city as fires rage and debris rains down. People try to escape, running down stairs and city streets. There are sirens,  screams, and clouds of dust wafting through the intersections and alleyways . This is no war, but the scene in Manhattan on September 11, 2001. 
Hearing the news that terrorists had just destroyed the World Trade Center buildings was shocking to people all over the world. On that day, 19 terrorists from al-Qaeda (pronounced "al-kay-dah"), the militant Islamist terrorist group based in the Middle East, hijacked four planes. Two were flown straight into the "twin towers" of the World Trade Center, a third crashed into the Pentagon, and the fourth crash-landed in a field near Shanksville, Pennsylvania. As a result, 2,996 people died, including the 19 hijackers of the four planes, and another 6,000 were injured.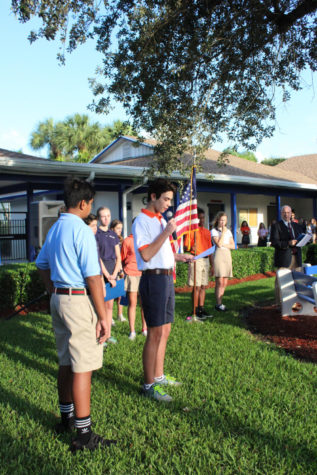 Many members of the faculty still remember that fateful day. 
"9/11 is a very emotional time for [my husband and I]," said Science Department Chair Mrs. Stephanie Oster.  "We lived very close to New York City, about an hour south, [in] Ocean City, New Jersey. We knew people on the rescue teams, we knew people who worked in the city, [we were] very close."
It's easy for people to recall the fear and uncertainty they felt that day.
"I was shocked and obviously upset," said History Department Chair Mrs. Anne Franzen. "I was born and raised in NYC, so [9/11 was] felt very personally, and on top of it, my mother was on an airplane coming to visit me [here in Florida], and I didn't know where she was. We later found out that she was forced to land in South Carolina, and took a bus down to West Palm Beach."
Mrs. Carol Coles, mother of seventh-grade student, Chester Coles, was a teacher at the Allen-Stevenson School in Manhattan during the attack. 
"A friend of mine worked for a large company that was headquartered in the World Trade Center," she said. "On that day, she was bringing her sons to school for their first day. The events that followed changed her life forever. She lost nearly all of her colleagues at the company and had to deal with enormous tragedy and loss on a personal level. Though she carries on today and continues to work downtown, she will never fully recover as a result of the attack." 
Now known as Patriot Day, 9/11 was the deadliest terrorist attack on American soil. For this reason, those who lost their lives in the attacks, including TBS alumni Lindsay Morehouse '96 and Patrick Aranyos '93, shall forever be remembered on this national day of observance. That is why TBS solemnly pays tribute to them and to all of the victims each year. 
On Friday, September 11, the entire Middle School gathered in the quad where several eighth-grade student council members – Keane Adam, Atticus Fasnakis-Nosal, Emerson Ferry, Haylie Fine, Andrew Lappin, Krish Raja, Matias Saiz, and Addie Vining – took turns reading President Trump's Patriot Day proclamation. While eighth grader Ronnie Parson served as flag bearer, fellow classmate Natalie Cona then sang the national anthem, after which students silently departed to their classrooms.
 Then, at exactly 8:46 a.m. – the time the first plane hit the North Tower of the World Trade Center – all classes paused for a moment of silence to honor the victims of the attacks. It was an opportunity for students to reflect on the importance of the day.
"I felt that it was important to celebrate the people who died [during the moment of silence]," said eighth grader Audrey Bocaccio. "I stood there, feeling empathetic"
Many TBS middle schoolers, despite not yet born when 9/11 occurred, understand the gravity and grief forever associated with that date.
"My reaction is that 9/11 was a tragic loss of life," said Vining. "I feel that 9/11 is a really sad moment in our history."
" [9/11] was really upsetting and scary to me," said fellow eighth grader Zoe Cooper, "because it could potentially happen again."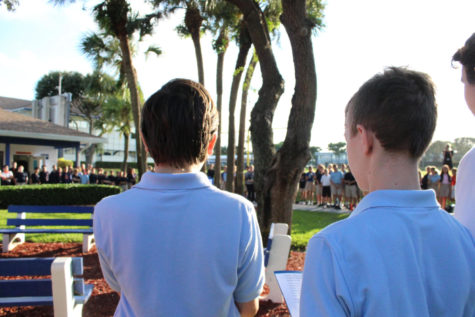 The lessons learned from that day still resonate with those who lived through it.
"Over the summer, I had the opportunity to visit the 9/11 Memorial and Museum," said Mrs. Coles. "It was so emotional reliving what happened on that day. The memorial is a beautiful tribute and an honor to those who lost their lives in the attacks at the World Trade Center, in Pennsylvania, and the Pentagon. It is a reminder that we will never forget."
"[9/11] was a life changing moment," said Oster. "You realize that life is short. Be kind as much as you possibly can, because you have to make every moment count."