NBA 2K19 Preview
Hang on for a minute...we're trying to find some more stories you might like.
As September has rolled around, so too has the new 2K basketball video game produced by Take-Two Interactive Software, Inc. This year, NBA 2K19, America's most popular professional basketball game, has made many technological improvements. These include updated graphics, smoother gameplay, and revamped game modes. Prelude [game demo] came out on Friday, August 31, but the people that pre-ordered the game got it on Friday, September 7. Then, the game came out for everybody Tuesday, September 11. Many Benjamin students are excited to get their hands on NBA 2K19.
"Obviously, there are new features and new gameplay updates," said seventh grader Matias Saiz. "It's going to be lit."  
Added eighth grader Carter Smith, "Indeed I am [excited]. Probably [most excited about] the better graphics and updated teams."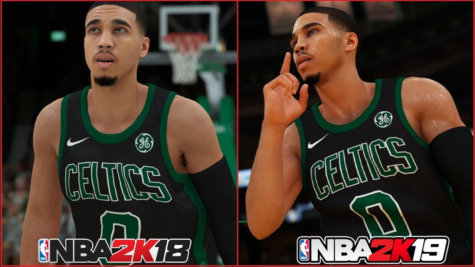 With colors that make the players pop more than ever, and detailed jerseys, shoes, and equipment, the graphics and details could be the best of any sports game yet. This year the developers also changed the warm up outfits to hoodies, and introduced new courts and backgrounds into the game. In addition, the gameplay from 2K18 had many holes like unrealistic shot animations and dribble animations that players exposed. From the gameplay in the prelude and IGN's review, the animations look much smoother. IGN is a gaming company that tests out games and reviews them before they come out. The animations look realistic and the players have more emotion. The players run and handle the ball more practically and the creators added new dribble moves, layups, dunks, jumpshots, and block animations into the game.
Also, users who  played 2K18 noticed that snatchbacks and blow bys were exploited very much. A snatch back is basically a step back then shot and a blow by is when a player moves one of the sticks forward and he speeds by the defender. This year those issues have been fixed. If a team is equipped with  a good rebounder, that avatar is going to get a lot of rebounds, where as if a team has a bad rebounder, he will get outrebounded by other players.
The most popular game mode in all of the recent 2K games is MyPARK and MyCAREER. Everybody loves the latter mode because it gives the the ability to create your own player and live out his NBA career.
"It's like being in the NBA except in a video game," said seventh grader Chase Malamala. "I'm excited for the new story mode and that you get to play in China now," he said, referring to the fact that  the player users create starts out his career in China. This is really interesting because the names of the teams are real, and the announcers and coaches speak in Mandarin (which reminds us to advise readers to check out those teams on Ms. Latimer's Chinese Basketball Association bulletin board in the world language hall.
Also, players like MyPARK due to the fact that it gives you a pickup basketball vibe. MyPARK is a mode where your My Player can play pickup basketball. "I love MyPARK because you can interact with so many things," said Malamala. "Also you can go to random alleyways and courts and look for mini games."
Something new introduced in 2K18 is the Neighborhood. The Neighborhood is a place where your player can shop or practice. This year, Take-Two added more shops and expanded the neighborhood. MyCAREER and MyPARK are connected, considering gamers use the same player and the decisions one makes in the real world corresponds with the other side of the game. For example if a person sign a contract with footlocker they will get a discount in the footlocker store and you get money in for playing NBA games.               
Another popular game mode in the 2K franchise is MyGM/MyLEAGUE. In this mode, you can choose a team and make all of the executive decisions, from initiating trades, signing free agents, and drafting players.  In MyLEAGUE, you control the league that you design yourself. For example, you can make new rules, turn options on and off that control restrictions, injuries, trades, and more.
In 2K18, players that were rated as 80 overall would request contracts that were more than $20 million per year, when they should have asked for about half of that. Now, users can change this.
Another big addition is the draft. The developers added a more detailed draft lottery and a more interesting draft screen. 2K19 has also added draft classes from 1960, 1965, 1969, 1970, 1974, and 1976-2017.  The biggest improvement is the draft scenarios and improved AI (artificial intelligence) within the game.
Many students were excited about these new features.  "Yes, you can draft players and play with them," said seventh grader Zach Neidoff. "[I am excited] because it will let you customize stuff."