Announcements – Wednesday, January 27, 2021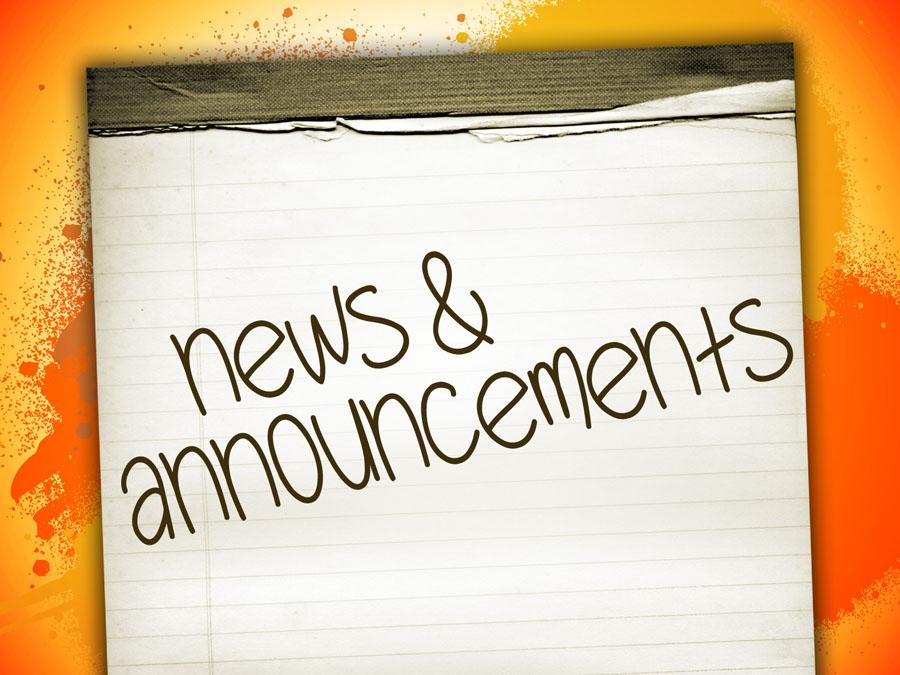 Eighth-grade students – please make sure you fill out the yearbook superlatives form Mr. Crisafi emailed you. Please make sure you fill it out by the end of the day on Monday, February 1. Winners will have their photos taken for the yearbook at a later date.

Any Middle School boys or girls interested in running varsity track: practices start this week at the Upper School from 3:30-4:45 p.m. At this time, due to Covid, there will be no bus transportation to the Upper School for practice, so you will need to get your own ride. If you have any questions, please see Coach Laz.

Students, please remember that you must be sent home through the clinic or the middle school office administration. You may NOT text or call your parents and have them come pick you up from school when you wish during the school day. All calls home during the school day must be made from the Middle School Office, not personal cell phones.

February 3, 2021 Virtual Parent/Student/Teacher Conferences

No classes for students. Parents who would like to schedule a 20-minute virtual conference appointment with any of their child's subject area teachers should call or email the teacher prior to Monday, February 1 to arrange a virtual conference time. Conference Day hours will be from 8:00 a.m. to 12:00 p.m. and 1:00 p.m. to 3:00 p.m. Students need to attend these conferences with their parents. Parents who are not available to meet on February 3 may schedule a time with any of their child's teachers before or after school the Week of February 1.

Please note: These conferences are one-on-one with individual teachers. Scheduling does not allow for meetings with groups of teachers.

Thanks to all of you who donated to the luggage collection sponsored by Mr. Maddox and Mrs. Tanona's advisories.

Food in the mornings, at breaks, after school before ETC/Athletics: During these times, please eat your snacks/candy in designated lunch/snack areas where it is possible to be physically distant. Keep your masks on as much as possible. Thank you.

Health and Safety on Campus

Break – 6 ft. distance.

Lunch – 6 ft. distance (outside and inside)

Eating outside: Advisory groups can use any outdoor space with chairs/tables to accommodate this – students must be 6 feet apart.

Lunch tables and chairs have been moved into groups of 4. Please do not move the chairs from this configuration.  

Fields at Lunch – 6 ft. distance

Masks – Must wear properly – over the nose.

Wash/sanitize hands as often as possible.

Please remember to bring your recyclable water bottles to school everyday, labeled with your name.

Important Updates Regarding Health and Safety:

With cases of COVID-19 rising nationally and within Palm Beach County, the following precautions must take effect immediately.

No Field Play Before School: Upon arrival, students need to walk to their first period classroom. They may sit outside and wait for class in their classroom groups if students are physically distant with masks on. This keeps students, as much as possible, in their pods during this unstructured time. We purchased chairs for this. Though the admin. team is trying to supervise students, teachers need to check on them as well.

Unfortunately, we can't allow field play at break: We need to follow our established procedure and release by pod: One grade level pod outside to eat a snack; the other pod eating a snack in the classroom. At the second bell, all students (inside and outside) go to their next period classrooms. If we allow field play at this time, we mix student groups in an unsupervised situation, greatly increasing chances of exposure in our community.

We all need to wear our masks properly – everyone.

Students should refrain from playing basketball on the basketball courts unless in PE class.