Red Ribbon Week Reminds Students About Dangers of Drugs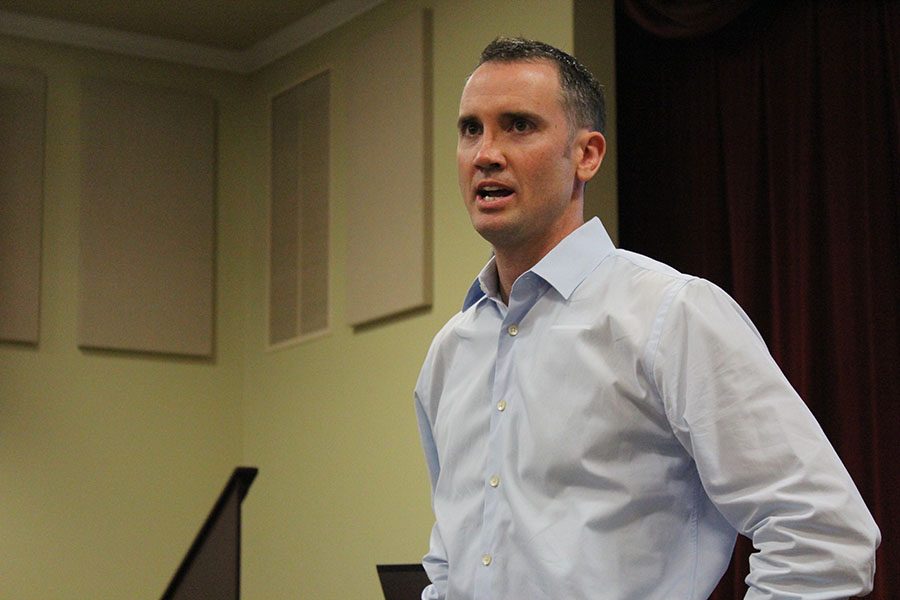 No one was prepared to hear how he was stabbed in the groin, and that he almost died in the parking lot of a bar because the knife had sliced his femoral artery. No one was prepared to hear his voice crack and see the tears flow from his eyes upon recalling the drunk driving death of his best friend, Billy Sauer. No one was prepared to see a picture of his grotesquely battered nose, shattered by a beer stein.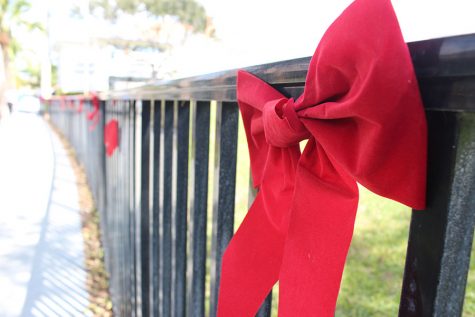 However, there's no question that the talk given by Mr. John McClellan '95 on October 25 made an impact upon the students. "His story made me realize how scary drugs can be and how effective they can be [at ruining] your life," said seventh grader Kate Small. "I will try my hardest not to ever drink alcohol under age after hearing its effects," echoed fellow seventh grader Camilo Saiz.
A TBS, graduate, McClellan was introduced by Middle School Athletic Director Mr. Toby Harbeck. Harbeck was one of McClellan's high school football coaches and called McClellan "the toughest player I've ever known." McClellan helped lead the Bucs to their only two high school football state championship appearances in 1992 and 1994. However, what many people didn't know about him back then was that he was an alcoholic and frequent drug user.
"For me, it started as a seventh grader," said McClellan in his address to the students in the Barker Performing Arts Center. "I was hanging out with some older guys, tried my first beer, and I hated it. I drank the whole beer, though, probably dry-heaved a couple of times, because what I liked about beer was the way it made me feel. So every night that weekend, I got drunk.''
McClellan's habit soon became an addiction and started spiralling out of control. He told his story, which included some near death experiences, and the death of his friend, Sauer, who, in high school, drove into oncoming traffic because he was drunk behind the wheel. However, McClellan shared how he went through Alcoholics Anonymous and the 12-step program which allowed him to get clean and turn his life around. He is now married with two children and is a successful chiropractor in Jupiter.
This was just one of many events planned for the students during Benjamin's Red Ribbon Week. Held October 24-28, Red Ribbon Week is TBS' version of The Red Ribbon Campaign, a nationally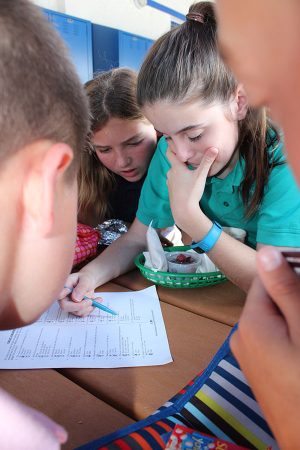 recognized anti-drug campaign sponsored by the National Family Partnership (NFP), a nonprofit organization that strives to achieve drug-free youth throughout America. In response to the murder of DEA Agent Enrique Camarena in 1985, angered parents and youth in communities across the country began wearing red ribbons to raise awareness of the death and destruction caused by drugs. The Middle School also placed red ribbons throughout its campus and held other activities for the students which were planned by Student Services Counselor Ms. Danielle Benvenuto.
Each advisory group was given a written drug awareness trivia quiz which the students filled out as quickly as they could during lunch. The advisories with the most correct answers who were the first to turn in their sheets were awarded free red velvet donuts from the Buc Cafe. The winners were Mrs. Ponchock's and Mrs. York's advisories (sixth grade), Mrs. Oster's advisory (seventh), and Ms. McAllister's advisory (eighth).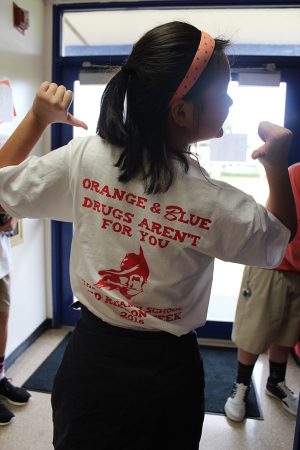 In addition, students were provided with a free pizza lunch and red-frosted cupcakes on October 25, and were encouraged to talk with their families about the dangers of drugs and alcohol during dinner that night. Ms. Benvenuto sent an email to all middle school parents about Red Ribbon Week, its purpose, the activities that were planned for the student body, and the discussions she hoped this opportunity would offer families. Students also received white t-shirts with red copy which had "The Benjamin School" emblazoned across the front and "Orange and Blue, Drugs Aren't For You" with the Buc head logo on the back. The middle schoolers were allowed to wear the t-shirts to school on Friday, October 28.
The students seemed to understand the message and why the School made Red Ribbon Week a priority. "I think think that Red Ribbon Week is effective because it gives the kids a better understanding of how practice of illegal drugs can harm people," Saiz. Added Small,"I think that Red Ribbon Week is effective because it made me realize how drugs and alcohol can ruin your future." The message of Red Ribbon Week hit home with eighth grader Grace Flatscher, who was especially moved by McClellan's speech. "I learned more about how drugs can affect people's lives," she said. "Mr. McLellan's talk really got me thinking about how real these things are."