Students Program Sphero Robots In Accelerated Science
Throughout the year, Mr. Matt Oster's eighth-grade Accelerated Science students have had the opportunity to participate in many fun, interactive, and innovative projects like building bridges out of balsa wood and creating mousetrap cars. Now Oster's students are learning how to program Spheros – a bluetooth-enabled robotic ball about three inches in diameter – through an obstacle course that they designed in the state-of-the-art Maglio Family STEM Center.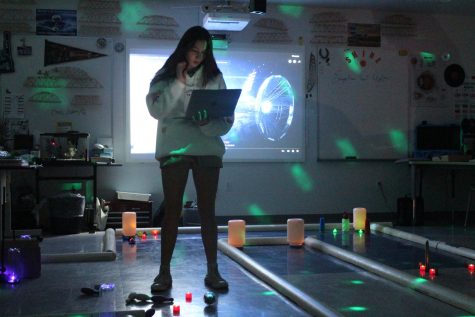 "The Sphero project summarizes several layers of skills," said Oster. "The students must be able to code the Sphero robots to complete various motions, displays, and communications. They must combine their coding into a program in which [the robots] will run [through] a large, complicated, [and] challenging course." 
Coding is not the only thing that the Sphero project involves. It also incorporates a 3-D printing aspect as well. 
"The students built 3-D printed exoskeletons for their Sphero's to protect the robots against some parts of the obstacle course," said Oster. "They designed the exoskeletons using TinkerCad, which is a computerized engineering program that connects to our 3-D printers. Before designing the exoskeletons, we did various challenges to ensure that the kids knew how to use the software and upload their designs to the printer," he said. 
Many students seem to enjoy all that the project has to offer. 
"I have had a lot of fun with the coding portion of the project because I love figuring out all the programming with the Spheros," said eighth grader Sage Ponchock. "Although it took some getting used to, I really like using the TinkerCad software, because it was really cool to see something you designed on a computer becoming a real object and something I could hold," she said. 
"I love this project because it is such a different type of learning than what we do in our other classes," said fellow eighth grader Ishe Makoni. "It isn't like taking notes or sitting in a classroom all day with no excitement. It gets you out of your seat to move around and makes you feel so good when you achieve your goal," he said. 
"I have really loved using TinkerCad because it is a really quick and fun way to 3-D print, and I think it's awesome we get to use it," said eighth grader Lila Cooper. "I love that we get to be creative and see our hard work come to life! It's amazing that we get to do [this] program and code the Spheros ourselves because it makes it that much better when you make a right turn or go the right speed," she said.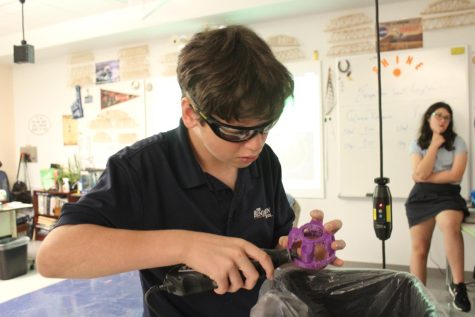 Students were able to put their coding skills and exoskeletons to the test with a challenging obstacle course where they had to maneuver their robots around 3-D printed roadblocks, ramps, and tunnels. In each of Oster's three classes, all of the groups made it through the obstacle course.
  "I think we succeeded because of our strategy for the project," said eighth grader Caroline Groffman. "We first worked on getting the sphero to the finish line, and then added in the lights and sounds that we needed. Each sphero interpreted the code a little differently, so we had to take that into account as well. My group and I decided to write down the number of the Sphero we were using to keep our code as accurate as possible," she said.  
"I thought the obstacle course was really fun and a great way to show Mr. Oster what we had learned from what he had taught us," said eighth grader Kenna Kujawa. "My group passed, and it was really rewarding to watch our codes come together at the end. I feel like I got a lot closer with my group over the course of the project, and our teamwork allowed us to be efficient and ultimately successful. We had someone coding, someone making animations and lights, and someone aiming the sphero," she said. 
All in all, the Sphero project seemed to be a really fun, interactive, and successful project for Oster's STEM classes. Students were able to learn how to use the new TinkerCad software, try new coding techniques, and had the opportunity to problem solve by navigating their Spheros  through a difficult obstacle course. 
"The project is extremely unique because it is layered with problem-solving independence, math, creative art and design, working as a team, 3-D printing, engineering, and discovery," said Oster. "This project has taken me many years to create, and I know that all of the life-long skills my students have learned, they will use in the future," he said.
Leave a Comment